London Auctions October 2018
Design sales regained strength, with twentieth-century Italian design leading the way.
October 2018
LAST AUTUMN'S DESIGN sales in London gave a taste of where the contemporary design market currently sits. This is a market that was burgeoning back in 2007, before the crash of 2008, but has been slow to recover from the resulting economic uncertainty. However, the 2018 figures show a return to strength, particularly for rare and exciting pieces. As Laetitia Contat Desfontaines, head of Design at Sotheby's says, "We have seen the market regain strength following a dip in prices, not to the level of ten years ago, but proving there is a sustained appetite and interest amongst collectors."
One of the outstanding examples of the October sale at Sotheby's was the unique 'Enignum X' dining table by Joseph Walsh in olive ash (2013) which carried an estimate of £80,000 – £120,000, but sold at £316,000 (almost double its highest estimate). Walsh has long proved he has transcended furniture design into recognition as an artist, with sculptural works such as 'Magnum Modus' (2017) — the seven-metre high, olive ash sculpture commissioned by the permanent collection of the newly refurbished National Gallery of Ireland — so arguably the estimate was low in the first place. A smaller piece by Walsh, the 'Erosion 1' low table in olive ash (2010), also confidently exceeded its estimate of £20,000 – £30,000, selling for £47,500.
Twentieth-century Italian design continues to perform strongly. Five of the top ten results from the Sotheby's sale were Italian, including a Gabriella Crespi 'Ellisse' low table in brass and wood from the Plurimi series (1979), which sold for £81,250 having been estimated at £20,000 – £30,000, and a rare 'Sirena' vase by Fulvio Bianconi (c 1950), which sold for £80,000 as opposed to the estimate of £20,000 – £30,000. An unusual ten-handle vase, 'model 3273' by Napoleone Martinuzzi (designed in 1930) more than doubled its estimate of £30,000 – £50,000, achieving £106,250.
Indeed, so strong is the demand for contemporary Italian pieces that Christie's hosted a sale dedicated to Italian design on the same day as its design sale. One of the clear highlights of the 'Thinking Italian: Design' sale was the 'Tipo B' chair by Carlo Mollino, which was gifted by the designer to Lisa Ponti, the daughter of Gio Ponti, on her wedding day in 1950. Estimated at between £200,000 – £300,000, it achieved £518,750, a record price for this model by the designer. Other outstanding lots in the same sale included a Napoleone Martinuzzi pulegoso vase (c 1928), which achieved £392,790, a world price for the artist at auction (originally estimated at £160,000 – £200,000), making the Sotheby's vase appear rather a bargain.
Ettore Sottsass, Prototype 'Commode column', circa 1963
COURTESY: Phillips
"We have seen the market regain strength …"
Laetitia Contat Desfontaines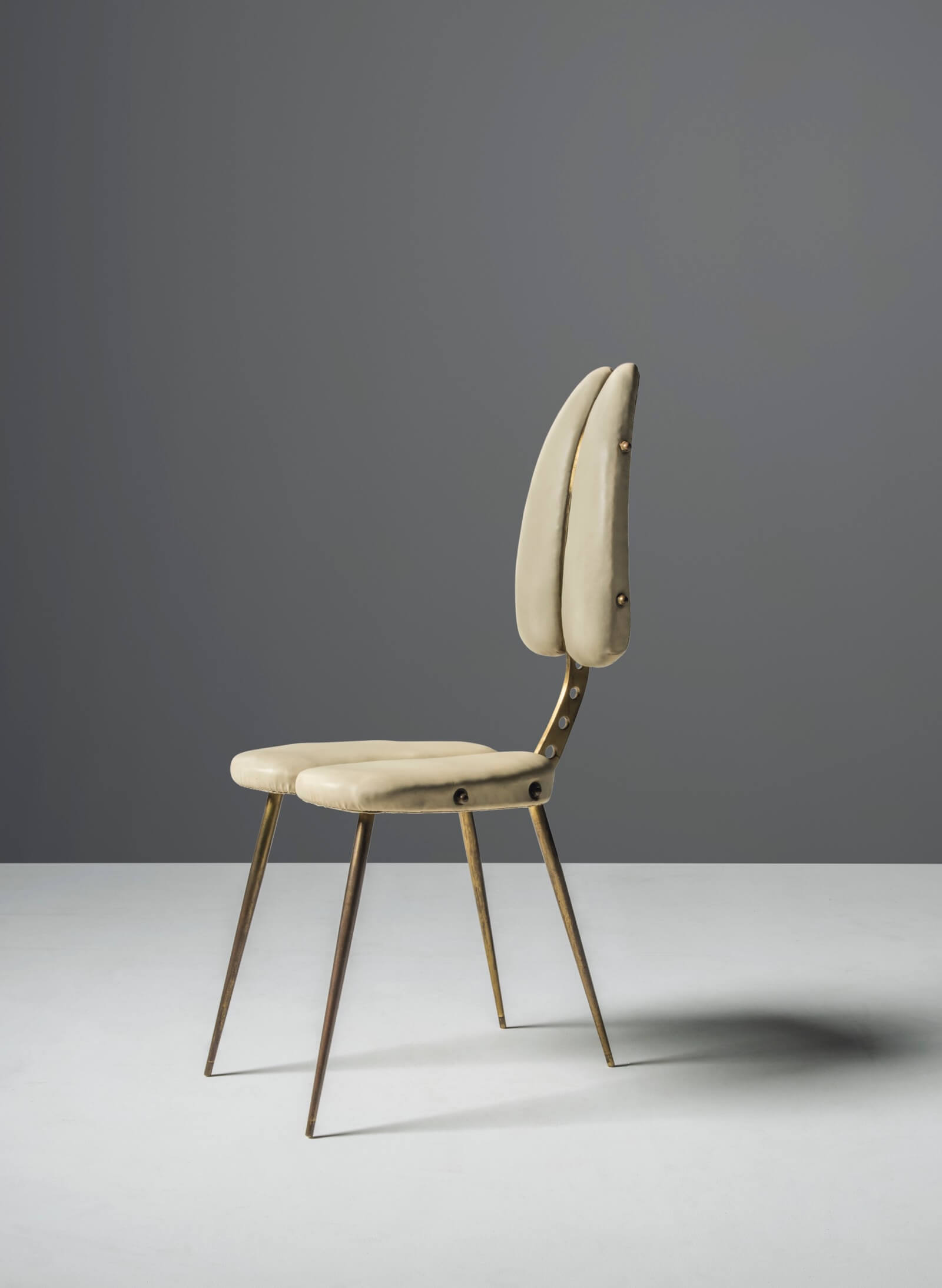 Carlo Mollino, 'Tipo B' side chair, 1950
COURTESY: Christie's
"… proving there is a sustained appetite and interest amongst collectors"
Laetitia Contat Desfontaines
A vitrine-on-stand by Carlo Scarpa (designed 1955-57), not only made a world record price for the artist at auction at £248,750, but exceeded its estimate of £10,000 – £15,000 to the power of ten. The third world record price at auction within the same sale was a Guglielmo Ulrich occasional table (1948), which was estimated at £20,000 – £30,000, but made a surprising £110,000 — with the auction achieving an impressive £3,465,875 in total. Simon Andrews, International Specialist of Design, reported interest from collectors across Asia, Europe and the Americas, "As always, works with impeccable provenance, a sense of innovation and benefiting from excellent original condition provided an effective foundation for the sales."
The Design auction at Christie's showed a positive response for works by master makers of the 20th century such as George Nakashima, Hans Wegner and Paavo Tynell. However, more contemporary pieces tended to be within the estimate range as opposed to significantly exceeding it, exceptions including Jasper Morrison's 'Thinking Man' prototype chair (1987) which sold for £40,000 (estimate £20,000 – £30,000) and Ingo Maurer's 'Comic Explosion' ceiling light (2010), which achieved £50,000 (against an estimate of £18,000 – £25,000). An early 'Large Bookworm' shelving system by Ron Arad (1993) also performed better than anticipated selling at £68,750, against an estimate of £30,000 – £50,000.
However, there is a clear divide between the two halves of the twentieth century when it comes to the collector's market, as proved by Phillips' Important Design sale where works by Diego Giacometti, Jean Royère and Charlotte Perriand all soared well above estimate. As Domenico Raimondo, Head of Design, Europe, says, "We purposefully set out to curate and contextualise our sales in order to celebrate and promote Design in its many forms. We are extremely happy with the strong and positive reaction from members of the public and experts alike."
He might well sound bullish given that the Giacometti 'La promenade des amis' console (1976), which carried an estimate of £300,000 – £500,000, trebled all expectations at £1,689,000. The Royère 'Trèfle' sideboard (c 1960) achieved £162,500 compared with an estimate of £80,000 – £120,000, while the Perriand 'Brazza' partitioned cupboard (c 1952) matched the Royère sale price with the same estimate. Ettore Sottsass continued to perform well with two pieces making the top ten: the prototype 'Commode column', which sold for £168,750 (estimate of £130,000 – £180,000) and 'Important frieze' (c 1965) selling for £162,500 (estimate as above).
Diego Giacometti, console 'La promenade des amies', circa 1976
COURTESY: Phillips
Paolo Buffa, rare pair of armchairs, circa 1940
COURTESY: Phillips
The Zaha Hadid 'Ordrupgaard' bench, model no PP995 (designed 2005) was arguably always going to outstrip its estimate of £30,000 – £50,000, selling at a relatively modest £75,000. However the 'Zenith' chair by Marc Newson (1998), barely tipped over its estimate of £50,000 to £70,000, selling at £75,000 — a far cry from the iconic, riveted aluminium 'Lockheed Lounge' (1986), which fetched £2,434,500, at Phillips in 2015 — still the world's most expensive design object sold at auction. Nevertheless, that is hardly comparing like with like given the edition size of the Lockheed and the rarity of any coming up for sale. Perhaps the real surprise was the pair of Paulo Buffa armchairs (c 1940) which carried a lowly estimate of £7,000 – £9,000, selling at nearly eight times as much at £68,750 — proof yet again that the Italians are still out-performing the rest of the world when it comes to contemporary design.