Middle Eastern Contemporary Design Auction / SALE PREVIEW
Ten contemporary design works inaugurate Christie's Middle Eastern Design sale.
Christie's online
11th – 24th November 2020
NEXT WEEK BIDDING opens for Christie's online Modern & Contemporary Middle Eastern Art Sale. New this year is a section dedicated to design, an indication of the wealth of design talent in the region and its increasingly high profile. The selection has been curated by the Croatian architect and interior designer, Viktor Udzenija, who began his career in Dubai, in the UAE, in 2006, when he joined Foster + Partners. It was in Dubai, in 2013, too, that he founded his eponymous studio, running projects internationally from there until this year, when he additionally opened a studio in Prague. Known for his love of natural materials, respect for artisanship and commitment to sustainability, Udzenija is himself also a designer of objects, creating limited-edition furniture and lighting.
For this sale, he has secured an eclectic group of ten objects from artists and designers across the Middle East. Most spectacular is the giant serpentine sculpture, 'Ouroboros' (2019) (estimate: £120,000 – £180,000), created from 16,000 hand-assembled scales of cast bronze by the Lebanese sculptor and jeweller, Ranya Sarakbi. The Ouroboros is the snake or dragon that swallows its own tail – a potent symbol of infinity, or of the cyclical nature of life. It is a piece of architectural jewellery; its gleaming presence dominates any space it inhabits.
Also eye-catching is Lebanese brother and sister partnership, Carlo and Mary-Lynn Massoud's 'Chair 1' (2020) (estimate: £5,000 – £7,000), constructed from painted concrete. Full of muscular energy, it looks like two people wrestling or dancing. Mary-Lynn Massoud, who studied ceramics at the Manufacture Nationale de Sèvres in France, handles concrete with the vigour and confidence of a potter.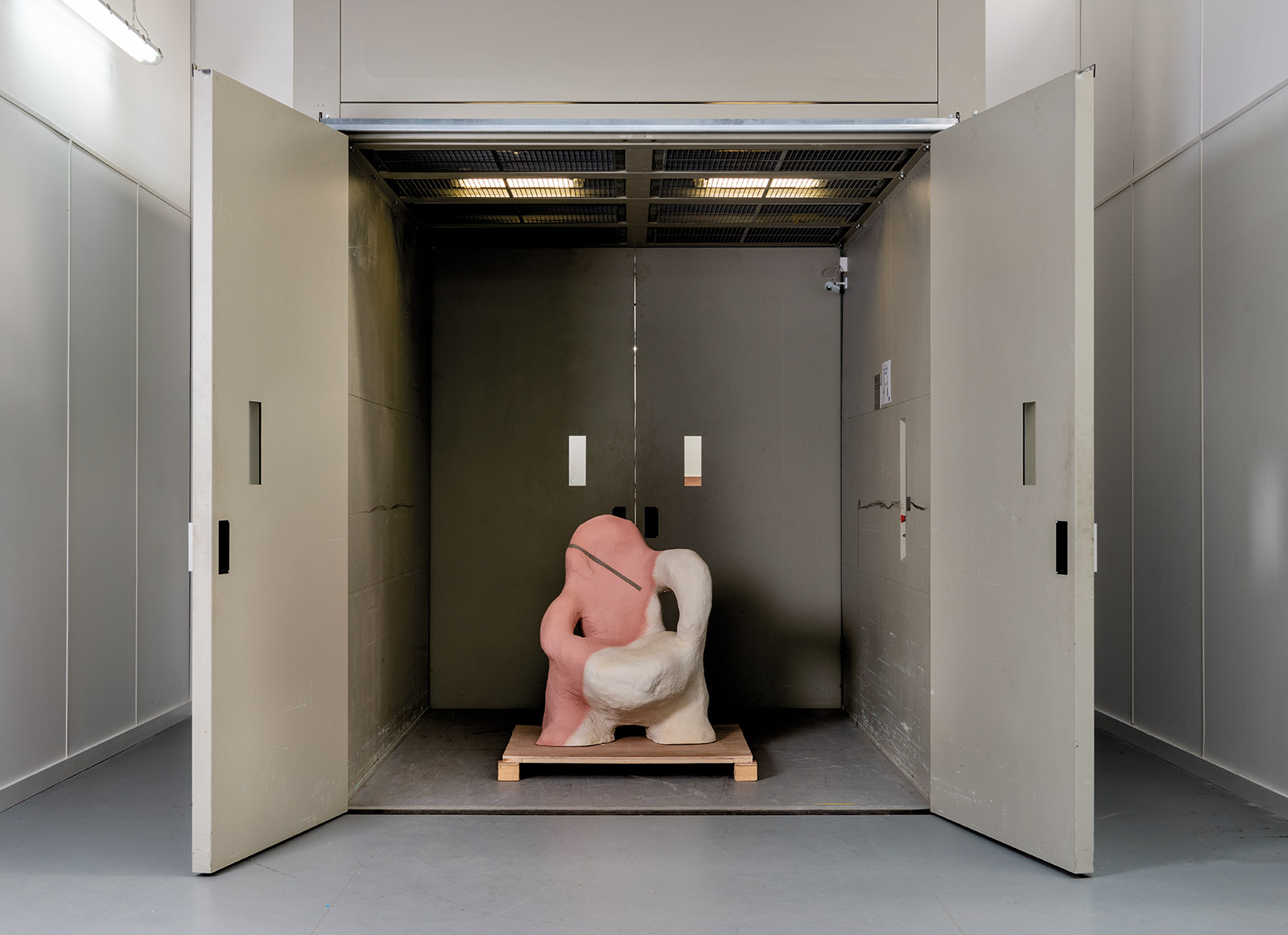 Carlo & Mary-Lynn Massoud, 'Chair 1', 2020. (Estimate: £5,000 – £7,000)
COURTESY: © Christie's Images Ltd 2020The Raku-specialist Hala Matta, meanwhile, also from the Lebanon, contributes a striking ceramic sculpture, 'Playtime Totems, (in two parts)' (2019) (estimate: £2,000 – £3,000). Lebanese duo David/Nicolas's elegant palm wood and satin brass table, 'Constellation C060′ (2018) (estimate; £14,000 – £18,000), a homage to their home city of Beirut, is a reminder of the Lebanese capital's role as pioneer and pacemaker in the fostering of contemporary design throughout the Middle East. Khaled El Mays's' Large Cabinet' (from the Palmea collection) (2018) (estimate: £6,000 – £8,000), also offers a characteristically Lebanese combination of the luxurious and the hand-made, with its charming wood and rattan drawers and shiny brass fittings.
As the creative ambition of designers and the market among collectors have grown across the territory, however, so new talents have emerged in other centres. Udzenija includes in this sale a striking wall-hung carpet by the Iranian textile artist Taher Asad-Bakhtiari, and a robot-formed copper, camel leather, and tinted mirror glass 'Carabus' mirror, by UAE designer and architect, Ammar Kalo. Udzenija suggests of his selection "Everything that a piece of design should have these works have: their purpose, innovative use of material, pushing and reinventing [of] old techniques and applying them with a new contemporary language, [and the] sensitive and sensible use of natural or re-usable materials – to give them a new life, thus making them sustainable." Together, these pieces represent an identifiable and welcome strand within Middle Eastern design.