Brigitta Spinocchia Freund
The innovative interior designer whose interest in collectible furniture has become a passion.
Behind the sober exterior of her West London townhouse, Brigitta Spinocchia Freund has created a dynamic family home in which warmth and humour are as important as astonishing architectural flourishes. Sophie Hastings interviewed the interior designer, whilst the TDE TV film crew was given a tour for the first of their 'At Home' series.
"I WALK AROUND spaces in my mind," says Brigitta Spinocchia Freund, founder of her eponymous design practice, who credits her dyslexia for her strong spatial awareness. The extensive renovation of her family home included creating two extra levels below ground, as well as a retractable glass roof, a series of lightwells and a 3-storey atrium that ensures every floor is flooded with light. Now measuring 18,000 sq feet, the property is a canvas for her eclectic, idiosyncratic style that – despite meticulous planning – is, she tells me, all about feeling and emotion.
Colour, texture and drama are delivered via eye-catching combinations of collectible design, vintage furniture and contemporary artworks. Given the grandeur and ambition of the project, the lightness of her touch is remarkable, exemplified by an unassuming series of 1980s' chairs by architect and designer Walter Gerth – their skinny, schoolroom legs crossed at the ankle, knock-kneed or flung one over the other – as if to remind us that no matter how impressive its interiors might be, this is a house with fun at its heart. "The 'Joke Chairs' are not expensive but are very difficult to find," she says. "They're a great example of how things don't have to be hugely valuable, they just have to feel right."
Spinocchia Freund launched her design practice in 2009, having worked as a creative director in luxury interiors. She credits her parents with her love of design and her relish of 'the hunt' for elusive pieces; some of her earliest memories are of wandering the souks and bazaars of Istanbul where she lived with her Italian father and Greek mother until she was six. When the family moved to Bournemouth, Spinocchia Freund's parents opened a shop selling Turkish artefacts and antiquities; her father also imported Italian furniture.
London kept calling, so she left home to study art with marketing and business at Westminster University. A chance encounter led to an opportunity to work in interiors. "Finally, I found an outlet for my ability to see things in 3D – I was incredibly lucky," Spinocchia Freund says. "But my aesthetic principles have really evolved since starting my own business. Like each client, every project is unique: I want to create interiors that express their essence."
Communicating a client's individuality is achieved in the same way she approaches her own home: art and collectible design are judiciously mixed with meaningful items such as children's drawings, treasured objects, heirlooms and flea market finds; and the skills of a retinue of artisans are employed. Among many specialists lurking in her covetable little black book, Spinocchia Freund calls on Faio in Paris for moulding, Rinck for cabinet-making and Collier Webb in London for metalwork – as well as upholsterers and weavers from across Europe.
She hands me a delicious soft leopard print bolster, "This cushion is by Le Manach," she says, "The velvet is hand-cut and it's just like the one in that famous photograph of Yves Saint Laurent draped across a sofa. Classic old-school glamour."
We are talking in the reception room where her clients are entertained and often inspired. A Christian Astuguevieille commode covered in knotted rope is placed discreetly in a corner, while a frog wearing a coat of pink crochet by Joana Vasconcelos keeps an eye on proceedings. "A client in London saw those pieces and immediately commissioned a Vasconcelos cover for her grand piano," Spinocchia Freund comments.
She has just finished a Zoom meeting with a Japanese client and members of her team are fielding phone calls from the Pierrre Cardin desk, which was a present from Spinocchia Freund to her husband. "It's so well-used, it actually needs a bit of repair," she remarks. Another vintage piece, one of Prouvé's monumental sun shutters, functions as a screen between the front door and the reception room, as they flow straight into each other.
Traditional wood panelling, handmade in Paris, not only contrasts effectively with contemporary artworks such as Fredrikson Stallard's crushed aluminium 'Hurricane' mirror that hangs above the fireplace, it "baffles the acoustics," Spinocchia Freund explains, "so the space feels cosy in spite of its size." The panels were finished by a specialist painter to give them a slightly aged appearance because, she says, "a new home needs to feel lived in." Vintage helps with this too and she goes to Tanguy Rolin (London) and Galerie Jacques Lacoste (Paris) to source mid-century designers like Prouvé, Charlotte Perriand and Jean Royère: "I just bought Perriand's coffee table bench for myself and am eyeing Royère's 'Grand Oeuf' chair," Spinocchia Freund reports. "These pieces will never lose their value." She's a long-term fan of Notting Hill's Themes & Variations gallery where she found the vintage Fornasetti cabinet that is paired with a monochrome abstract by British Modernist sculptor and painter William Turnbull.
In light of the pandemic, it is clear that our homes will need to accommodate both work and family life and Spinocchia Freund's combination of the two spheres is a masterclass in navigating their coexistence – albeit at a rarefied level. While the kitchen contains a Zaha Hadid 'Liquid Glacial' table, a Jeff Koons dinner service, an India Mahdavi sofa, two Philip Arctander 'Clam' chairs and a Campana Brothers 'Cake' stool, it is also a room that caters to three children under eleven, with school paraphernalia in the corner as proof.
The exuberance of the Richard Woods bar stools, printed with his signature cartoon-effect coloured planks, speaks volumes; and for smaller bodies there are six tomato-red Stokke chairs arranged around a low table. Nothing is sacred: Hadid's statement table is invisibly covered in a removable protective layer to protect it from everyday use, and the dining chairs are "comfortable, easy," she says, "which means we can sit for hours over supper. Also, by pairing it with non-design seating, the table really sings." Madhavi's jolly green sofa is "upholstered in a Le Manach chenille," she adds, "which actually makes it easier to clean up the inevitable spills. It doesn't seem to mind the children lying along its back either."
Running through the core of the house is a cantilevered spiral staircase that wraps around a transparent, tubular, rotating lift. Stepping into the glass elevator we descend to the first of the underground floors and emerge at the entrance to a decadently beautiful bar with a seating area of fringed, velvet chairs and a banquette of flame-stitched fabric, all by Spinocchia Freund. Beyond is a double-height library with a book-lined mezzanine reminiscent of a New York loft.
Bespoke glass cabinets showcase ancient cameras, old toys and other personal ephemera; and a record player sits behind the sofa with a stack of vinyl, listened to by the family on Sundays while the children do their homework. "This is my happy place," says Spinocchia Freund. "My books are very precious to me, I come in here to be inspired." With a vast folding table running the length of the bar, the bar can double up as a dining room, and the library a dancefloor.
This sumptuous space, that moonlights as a subterranean nightclub, neatly sums up Spinocchia Freund's aesthetic and approach to life: a heady cocktail of the serious and the light-hearted, vintage and modern, with everything expertly mixed around family and friends.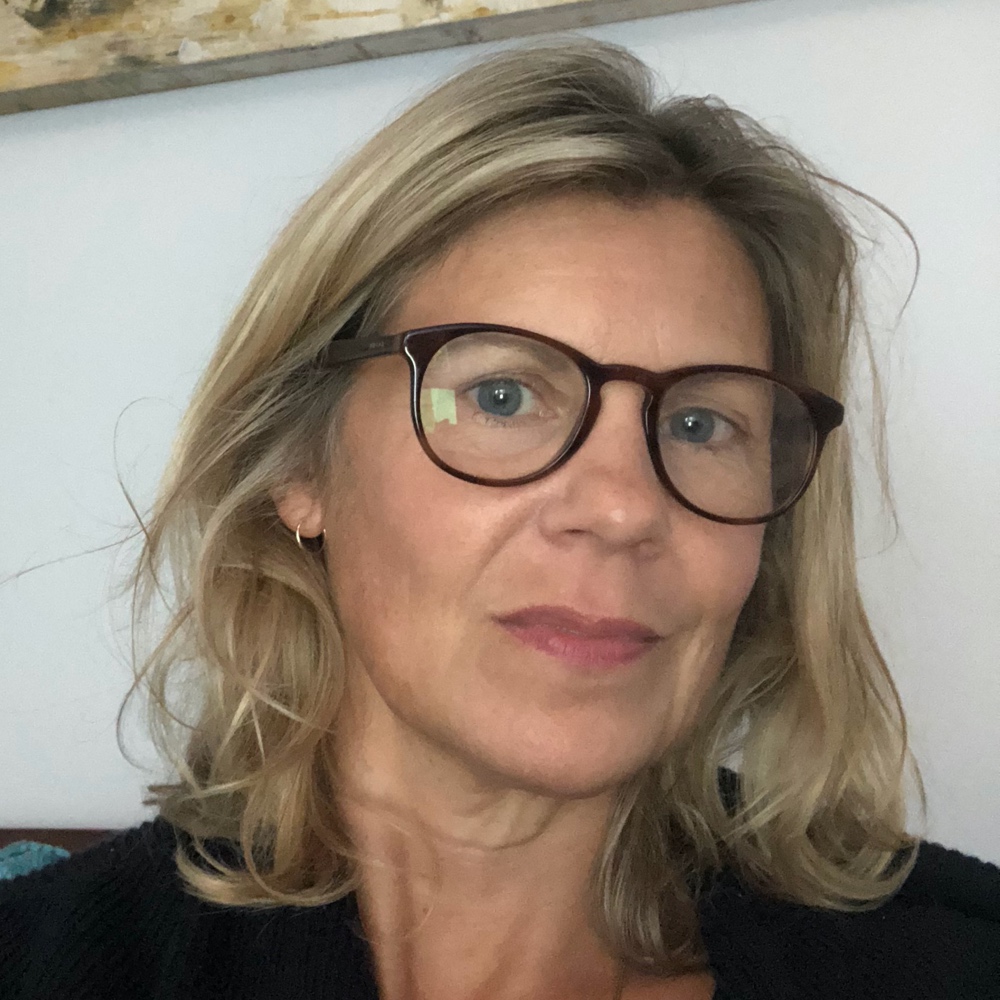 Sophie Hastings is a journalist based in London specialising in the global contemporary art scene. She has written about design and interiors for publications including The Times, the FT, the Guardian, ARTnews, Christies.com and Sotheby's magazine.
View all articles by Sophie Hastings