SUMMER ROUNDUP / Design Auctions Paris and New York 2021
A buoyant mood and high demand for nature-inspired pieces brings in strong auction results for collectible design.
THE DESIRE TO be closer to the countryside during the pandemic has tilted the tastes of collectors towards nature-inspired works. This eagerness to fill interiors with pieces evoking the natural world galvanised the May/June auctions in Paris and New York. Evidently, a keenness to embellish homes after months spent indoors has bolstered this upswing.
This was most striking at Sotheby's, whose sales on 25th May in New York and 26th May in Paris aggregated $39.1m, surpassing the $27.6m high estimate, with 88 percent of lots sold.
The buoyant results were closely watched by dealers who were eager to gauge the market's health. "Everybody was delighted with these incredible results because it's reassuring for sellers, buyers, dealers and curators," says Florent Jeanniard, European head of design at Sotheby's.
Harry Bertoia's 'Untitled (Dandelion)' (1958), an imposing, two-metre-high steel sculpture, soared to $1.9m, ten times over its $150,000-200,000 estimate, after a ten-minute bidding war. The seller had bought it for $146,500 at Phillips in 2010, after Florence Knoll Bassett (wife of Knoll furniture company's founder), to whom Bertoia had gifted the piece, consigned it.
Enthusiasm for the Lalannes, whose flora-and-fauna universe is exhibited in the gardens of the Château de Versailles this summer, remains unabated. Claude Lalanne's bronze 'Crocodile Settee' (2016) and pair of 'Croco-Consoles' (1994-2012) fetched $1.5m and $1.1m respectively. They were fresh to the market, having been originally acquired from the artist's collection. Her unique chandelier with butterflies adorning the stems similarly went for $1m.
Isamu Noguchi's asymmetrical marble and three-legged mahogany table (1945-1947), making $1.1m, and Tiffany Studios's 'Fruit' table lamp (circa 1910-1915), $564,500, also reflected interest in noble materials and themes drawn from nature.
In Paris, François-Xavier Lalanne's bronze monkey, 'Singe II' (1999), and immense bronze fish, 'Grande Carpe' (1997), performed strongest. Going under the hammer to Asian collectors for €1.5m and €1.2m respectively, they exemplify how some works by the Lalannes can defy categorisation.
"Putting the Lalannes in a contemporary art sale would also be imprisoning them – whereas a design sale allows art lovers to become interested and for interior designers to propose their work to clients," Jeanniard opines. "The design department corresponds best to the Lalannes whose work has this sculptural bonus."
Diego Giacometti's output also straddles furniture and sculpture. His cariatides-decorated table (1980), €678,000, and ostrich sculpture (circa 1977), €472,000, were among his pieces that did well.
"Collectors all over the whole world are interested in Diego, so inevitably prices are rising," Jeanniard says. "His production was relatively short as he only made his own pieces from 1967 to 1985, after working for his brother Alberto until he died in 1966. Initially, there were authentication problems [as foundries produced counterfeits] but his works have been authenticated which reassures the market."
For the first time in Paris, Sotheby's showcased design nonchronologically and intermingled different epochs. "We thought of mixing things up, as if [the saleroom] were a collector's home because nobody lives with a total look today," explains Jeanniard, who borrowed this idea from the contemporary art sales.
Sotheby's wished for a "beautiful sale with exceptional pieces". This meant ruthlessly excluding some prospective consignments. "Somebody offered a nice ceramic by Georges Jouve but it had been broken and restored, so I didn't take it," Jeanniard recalls. By contrast, Jouve's enormous, black enamelled earthenware 'Bonbonne' vase (1955) in mint condition quadrupled its estimate to €201,600.
The many nature-related offerings ranged from Janine Janet's 1966 bronze reclining stag, €176,400, to Guy de Rougemont's cloud-shaped 'Nuage' table (1972-2006), €126,000, and Maria Pergay's 'Marie-Antoinette' table (2007), €113,400, inlaid with oak from Versailles.
The Christie's design sale totalled €7.7m, exceeding its €5.3m high estimate, with 81 percent of lots sold. "We think that the time our clients spent indoors and their desire to care for their homes is one of the reasons for this phenomenon," Agathe de Bazin, head of the sale, says of this year's positive results.
The top tickets were François-Xavier Lalanne's 'Mouton de Laine' (1969) sheep sculpture, €860,000, and Diego Giacometti's bronze 'Carcasse' table (1979-1980) adorned with small bats, €524,000. Meanwhile, Alberto Giacometti's 'Figure' standard lamp (1933-1934) brought in €243,750.
Comparing the two brothers, Bazin says: "Alberto's art market is long established but his decorative arts production was overlooked for many years. His probably more recognisable name 'pulls' the market upwards. Diego's work, which was relatively unknown during his lifetime, has been garnering more interest, undoubtedly contributing to the brothers' success in this field."
Alberto Giacometti, 'Figure' lamp. (Estimate: €100-150,000. Sold for €243,750)
COURTESY: © Christie's Images Limited 2021
Diego Giacometti, 'Carcasse' table with bats, 1979-1980. (Estimate: €200-300,000. Sold for €524,000)
COURTESY: © Christie's Images Limited 2021
Christie's Paris has been presenting design and contemporary art concurrently since spring 2020 in an endeavour to conjure the ambience of a collector's home. Think of a Bernard Frize painting above a 'Bahut' cabinet (1939) by Charlotte Perriand, €337,500, which was created for her and Georges Blanchon's design office.
This cross-pollinating concept originated at Christie's London in 2017, where design and photography were first shown in tandem. "Lovers of design also collect contemporary art so it seems natural to bring these two categories together [and] it allows buyers to more easily imagine how the pieces would look in an interior," Bazin explains.
The sale revealed how Jean Prouvé's market has skyrocketed in the last decade. Prouvé's 'S.A.M. Tropique N. 503' (1951) dining table fetched €275,000, five times more than the €52,046 paid by the seller at Artcurial in 2008. Prouvé made the emblematic 'S.A.M.' table in wood and in metal; this model's particularity is its black lacquered top and red steel-plated legs.
Other successes were Eugène Printz's Art Deco palmwood-and-brass desk (1932), €237,500, and a suite of seven uniquely distinctive mirrors by Line Vautrin, including three that surpassed the €100,000 mark.
Artcurial juxtaposed its Art Deco/Design sale, generating €2.5m, with its Limited Edition sale by Modern and Contemporary artists. Lithographs by Pierre Soulages and Sonia Delaunay were interspersed with design in an approach that Artcurial is embracing "systematically", says Sabrina Dolla, Artcurial's Art Deco specialist.
The leading lot was a glass-and-alpaca console and mural shelf by Eckart Muthesius, €312,000 (circa 1930), which was made for the library of the palace of Manik Bagh in Indore. Muthesius (son of Hermann Muthesius) had befriended Maharaja Yashwant Rao Holkar II whilst studying at Oxford in 1929. After the young prince returned to India, he commissioned the German architect to design the modernist architecture and interiors of the palace. This provenance and rarity drove the price.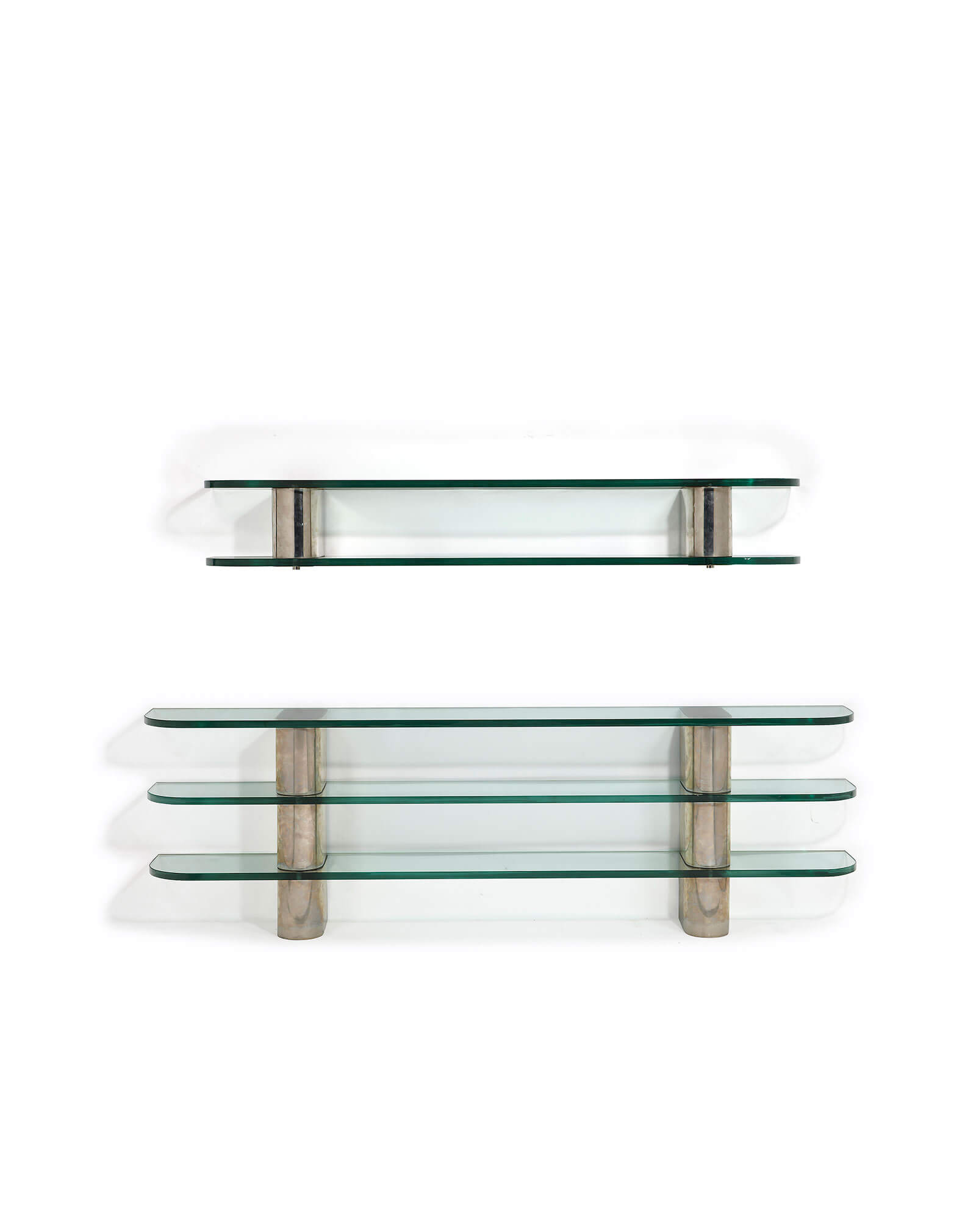 Eckart Muthesius, 'Console and wall shelf', circa 1930. (Estimate: €250-350,000. Sold for €312,000)
COURTESY: Artcurial
"The leading lot was a glass-and-alpaca console and mural shelf by Eckart Muthesius"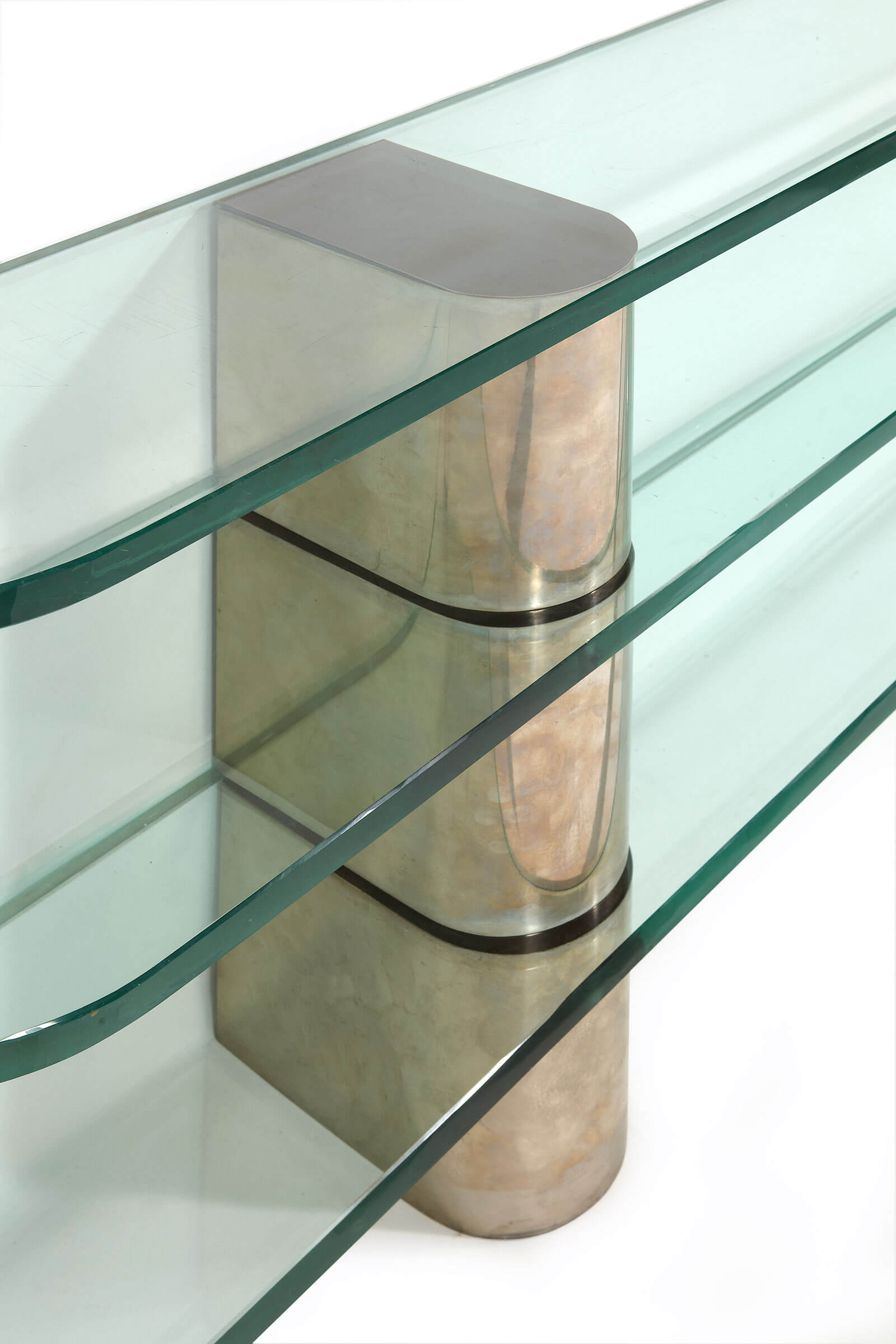 Eckart Muthesius, 'Console and wall shelf', circa 1930 (detail). (Estimate: €250-350,000. Sold for €312,000)
COURTESY: Artcurial
"The provenance and rarity of the piece drove the price"
Another standout was Ron Arad's 'Rolling Volume' steel armchair (1989), €93,600, which the Israeli-British designer made at his former One Off studio-shop in London's Covent Garden. "Ron Arad's quota has fallen slightly since the 2000s, when his shiny pieces appealed to that decade's bling-bling aesthetic but this piece is quite timeless,' Dolla remarks.
Piasa made a total of €2.7m from two sales: 'American and Brazilian design' and 'Light in Clay' featuring pieces by Jane and Gordon Martz and by Lee Rosen for Design Technics.
Once again, an animal piece claimed the spotlight: Judy McKie's elegant bronze 'Lynx' console (1999), €104,000. Like works by the Lalannes, it is both a sculpture and a piece of furniture.
Hot on its heels was George Nakashima's 'Enfilade' (1982), a walnut-and-pandanus cabinet, €83,200. Paul Evans's pieces did reasonably well and the inclusion of Alexander Calder's brightly coloured, abstract tapestries boosted the sale.
Leading the Brazilian offerings was a bench by José Zanine Caldas (1979), sculpted from vinhatico and jatoba woods, €36,400. Meanwhile, the Martz couple's 1960s ceramic-and-walnut table, €19,500, topped the 'Light in Clay' sale. All the couple's pieces outperformed their estimates, reaffirming the passion for countrified ceramics.