Design Duos / Muller Van Severen
The Design Edit talks to the designer couple who've developed a powerful and distinctive creative language.
MULLER VAN SEVEREN consist of Fien Muller and Hannes Van Severen, who live and work together in Ghent. They share their home with their two daughters, surrounded by many of their designs, and work in the studio in their garden.
Their furniture designs are equally at home in a person's living room as they are in a gallery, with single pieces fusing multiple functions to form complex objects that appear almost like installations: a lounge chair with a lamp rising from the right leg up and over the seat, combined with a shelf reaching to one side; two chaise longues that meet perpendicularly to one another, fusing into one seat; or a cabinet made of metal wire that simultaneously conceals and reveals its contents.
In 2020, the duo exhibited their work at the Villa Cavrois as part of Lille Metropole 2020. The 1930s modernist mansion built by Robert Mallet-Stevens became host to Muller van Severen's pieces, engaging in a dialogue that seemed to transcend ordinary definitions of time, with both Muller van Severen's designs appearing as modernist objects from the 1930s, and the villa's interiors becoming highly contemporary.
The Design Edit (TDE): How did you first meet each other?
Fien Muller (FM): We met at the Academy of Art in Ghent. I was studying photography, and realised I wanted to do something in 3D, so I started sculpture class, which is where I met Hannes.
TDE: What drew you to working together for the first time?
Hannes Van Severen (HVS): We were both active as individual artists at first. I was making sculptures that took recognisable objects and changed them in some way. I made big staircases in concrete, twisting them into spirals and unexpected directions to make them appear like classical sculptures. I would put lots of different staircases into one room, creating a very surreal atmosphere.
FM: I was making contemporary still lives with found objects that I would put together in an interesting way, sometimes with a bit of humour. We were working in the same building, and were always communicating with each other about our own work. We wanted to do something together, but we weren't sure what medium we could work in.
Then in 2011, I received a request from the Antwerp design gallery Valerie Traan to do a show there. They specialise in showing pieces that occupy a space between art and design. The owner asked her artists to approach someone to collaborate with for the shows, so I asked Hannes to work with me. At the time, we were renovating our home, so we thought, "Why not make functional objects together?" The lighting fixture in our living room wasn't working at the time, so we designed a table that had a lamp incorporated in the design. We worked very quickly and spontaneously – I think we made the whole exhibition in about two months.
TDE: Since you started working together, how has the way you work changed or developed?
HVS: How we work together is very set; it hasn't changed much. But compared to when we were working alone, the difference is huge. When you work alone, you never get any feedback.
FM: You are in the dark constantly. When working as a duo, you have to trust each other a lot to appreciate each other's critical view, and to use it to make something productive. I think the dialogue we share has brought us to where we are now.
TDE: How do you work creatively? Do you split the work, do your skills overlap and complement, or are you polar opposites?
FM: Both of us carry out exactly the same function in our job. We don't separate anything. We are constantly doing things together. Sometimes Hannes starts a design, and then I add a colour, or provide feedback – or sometimes it is the opposite. It is always different with each design, but we always work together.
HVS: It is strange; we have a very silent language. We have an instinctive feel for what works and what doesn't. Our collaboration is very direct.
FM: We do have discussions, but never about the designing process (laughs).
HVS: When we do communicate about designing, it's never with words, but with images, drawings, materials and models.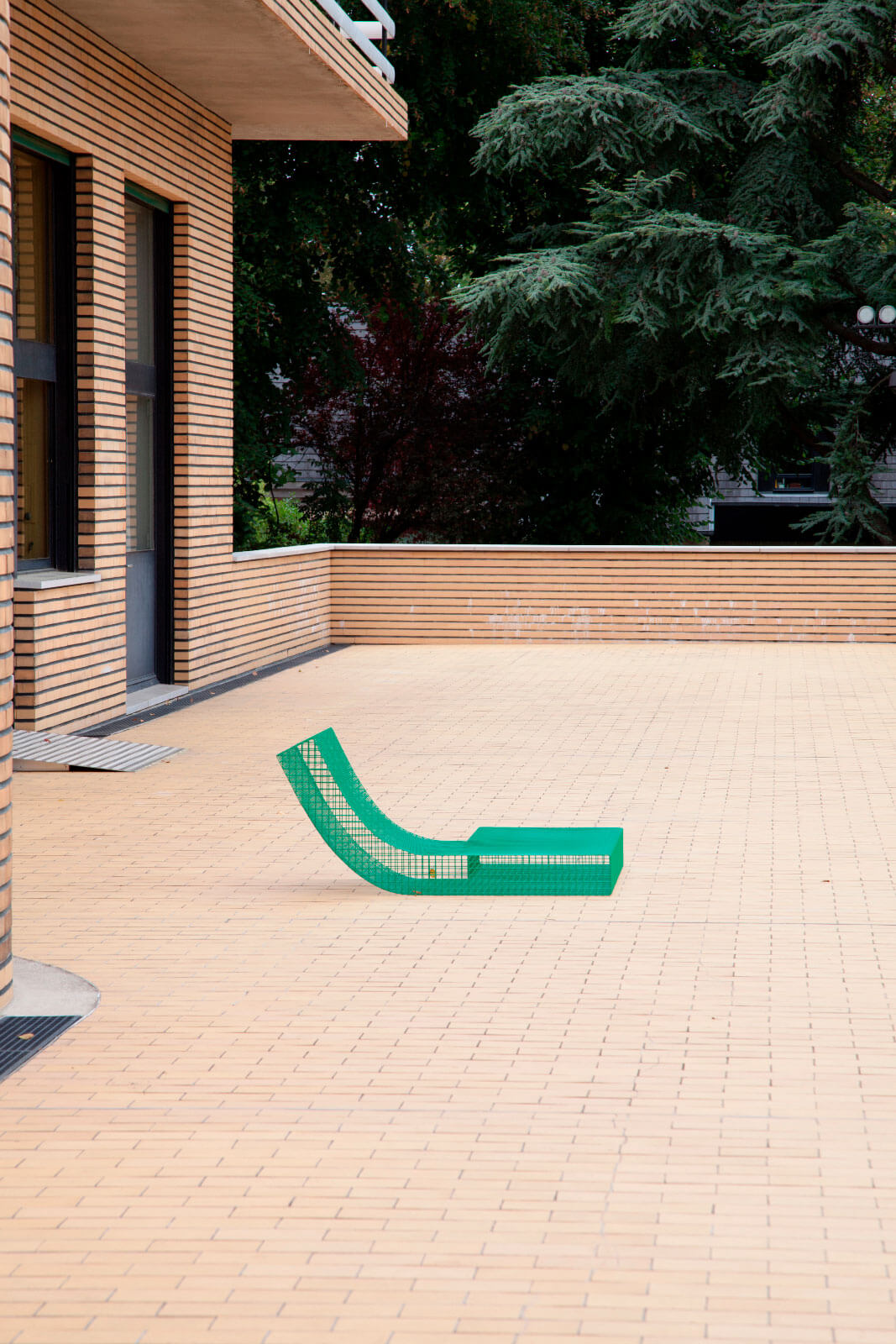 Muller Van Severen, 'Wire # 8', 2015, at Villa Cavrois
COURTESY: Muller Van Severen
"When working as a duo, you have to trust each other a lot to appreciate each other's critical view"
Fien Muller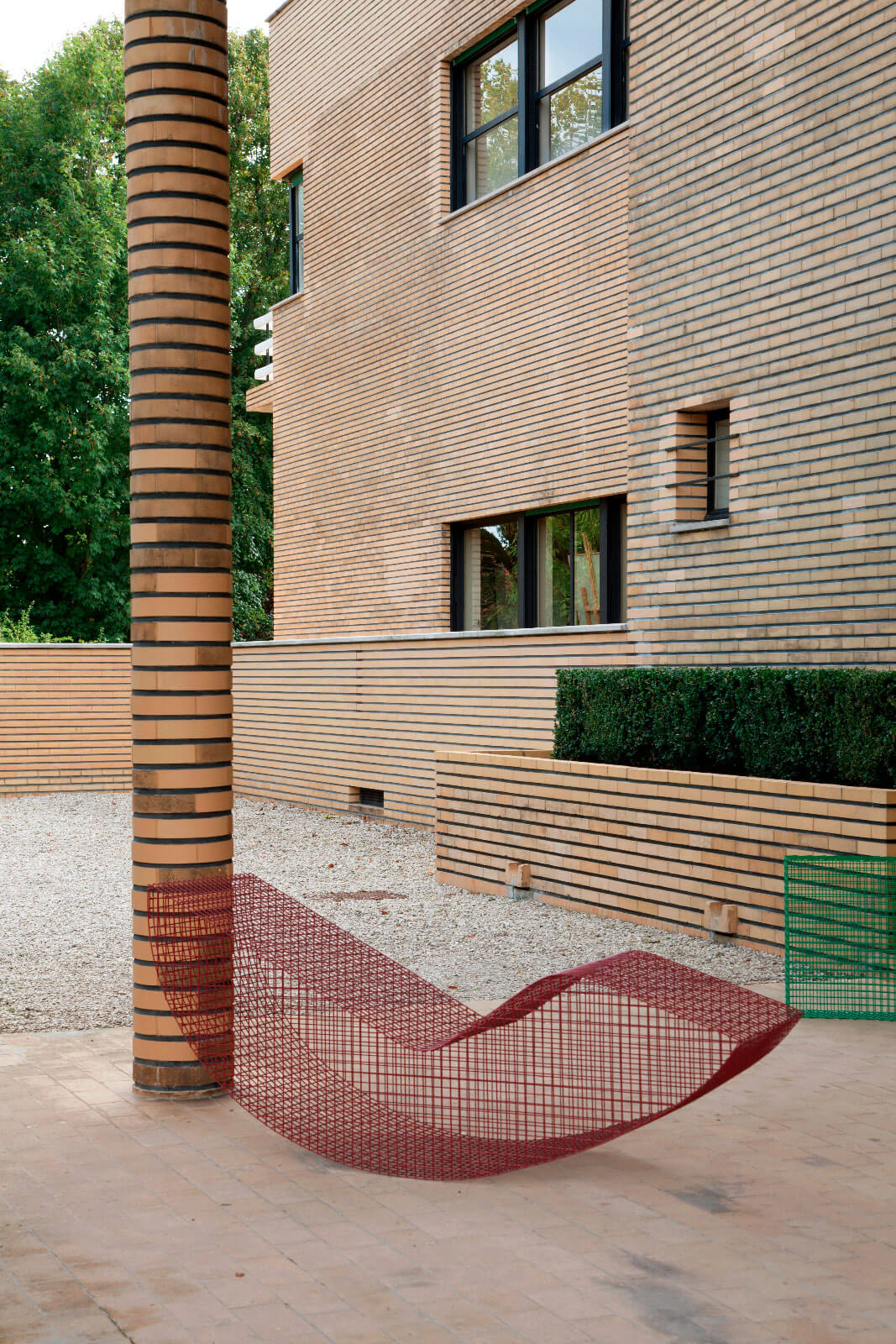 Muller Van Severen, 'Wire #6', 2015, at Villa Cavrois
COURTESY: Muller Van Severen
"We don't want creativity to be this safe feeling that we are both happy with. We try to challenge each other"
Fien Muller
TDE: Do you ever get the feeling that you are going in different directions – or is there ever tension that you need to resolve when you are making things?
FM: I think we do, and it is interesting to be challenged by a new view when the other is trying something completely different or surprising. We don't want creativity to be this safe feeling that we are both happy with. We try to challenge each other.
HVS: We want to keep surprising each other to do things differently.
FM: I also find it really interesting working with others. We are currently working with HAY on a collection of tables, lights, vases and candleholders, which we recently launched. It will be in stores in August. Working with them has brought another dialogue entirely to our work, and I think it also adds a lot of energy to our own dialogue.
TDE: Why are two people better than one?
FM: I don't think every two people are better than one (laughs).
HVS: For Muller van Severen, it works.
FM: I don't know what it is. It feels so normal and natural. I think it is to do with the fact that we have known each other for 20 years – half of my life. We have grown together. For instance, when we go to a shop, we constantly say things like, "Oh I like that", or "Look at this". It is not only in the studio where work gets made – you can find inspiration in your whole life that you share together.
HVS: We are also very visual.
FM: Yes – if we watch a film together, we sometimes notice something in the background, like a colour or a material, and we often notice the same things. It is sometimes quite scary (laughs).
It is an organic, natural thing, working together. I don't think I could work with somebody else other than Hannes.
TDE: What else are you working on at the moment?
FM: We have a big exhibition at the design museum here in Ghent, so we are doing a lot of work in preparation for that. It will feature our own collection because we are celebrating our 10th anniversary this year. We will show a lot of pieces from throughout our ten-year history, and we will also make a selection of objects from the museum's collection to display with our own.
HVS: We want to choose pieces that work with ours. We will show in ten different rooms, to focus on ten important moments in our work.
FM: We are also making a book, which will launch at the same time as the exhibition, in October.
Muller Van Severen for HAY will be available in stores from 16th August.