Design Duos / Odd Matter
Driven by a shared desire to explore materials and make startling objects.
DESIGN DUO ELS Woldhek and Georgi Manassiev studied the MA in Design Products course taught by Ron Arad at the Royal College of Art (RCA) in London. In 2011, they became a couple and slowly started collaborating. Four years later, in 2015, they founded their studio Odd Matter and the following year won a prize at Design Parade in Hyères, south of France. Now based in Rotterdam, they pursue an experimental approach focused on stretching the limits of processes and surfaces.
Odd Matter's commissions have included 'Mass' (2016), tables and shelves made from cork granulate and alpha crystalline gypsum, as well as 'I Was Here' (2018), for the castle Schloss Hollenegg in Austria. For one of the castle's tapestry rooms, the duo preserved a fragment from a vintage red rug, which they used as the starting point for a new rug hand-knotted in Nepal and produced with Nodus.
Over the last few years, the duo have been developing the 'Guise' collection for Nilufar gallery in Milan. Consisting of amorphous pieces made from carved foam coated in iridescent car lacquer, the name of the collection alludes to how the foam has been cleverly disguised.
The Design Edit (TDE): How did you meet?
Els Woldhek (EW): We were in the same year and department at the RCA. We got together after college and working together happened in a very natural way. Before collaborating, we had our own practices.
TDE: Which designers or artists influenced you?
Georgi Manassiev (GM): My influences were design icons like Enzo Mari, who was very opinionated about what design should strive for, but also incredibly diverse and prolific.
EW: I was influenced by my BA at Design Academy Eindhoven because it was very experimental. I'm driven by concepts more than function. Grayson Perry had a big influence on me. I really like how he looks at society, behaviour and people – holding a mirror to society without judgment. For me, design is like that too; it is about our immediate environment and the places we inhabit.
TDE: What drew you to work together?
GM: After becoming a couple, we started to slowly sync. Through our constant dialogue about what we wanted to do, and how, we began to merge into one entity. Over time that naturally led to launching our joint practice.
EW: As we would talk about our work a lot, we naturally became quite involved in what the other was doing. There came a point where this crossed over from supporting each other, to starting a project together. A big part of what made it attractive is that we push and challenge each other so it feels we can take things further than we otherwise might.
TDE: How did your career develop?
EW: One of the things that we determined at the beginning is that we didn't want to limit ourselves in terms of materials.
GM: We wanted to open up and experiment. As designers, we're maturing and as collaborators, we're getting to know each other better.
EW: Initially, we tried hard to compromise, thinking that the other would be happier with the outcome – but probably one of us wouldn't be. We've let go of that as compromising is not a good solution between us.
TDE: What were the first works you collaborated on?
EW: I think the first pieces we worked on together were a series of lamps with glass and electroplating.
TDE: Why did you decide to settle in Rotterdam?
EW: We'd been in London for seven years and had a very nice life but we didn't see how we'd develop our studio. So, our first thought was to move to the biggest city in the Netherlands, Amsterdam. Although it sounds like a really cool place, it was too much like EuroDisney. Rotterdam is less on the tourist track and it feels that you could actually live here and do things. It's very easy to find companies, materials and manufacturers, whereas in London finding suppliers of certain materials could be very difficult.
TDE: How do you work creatively? Do you split the work, do your skills overlap and complement each other, or are you polar opposites?
EW: It works quite organically, we don't divide tasks. I'm probably more organised and will have more of an overall, conceptual vision.
GM: I'm more detail-oriented and technical.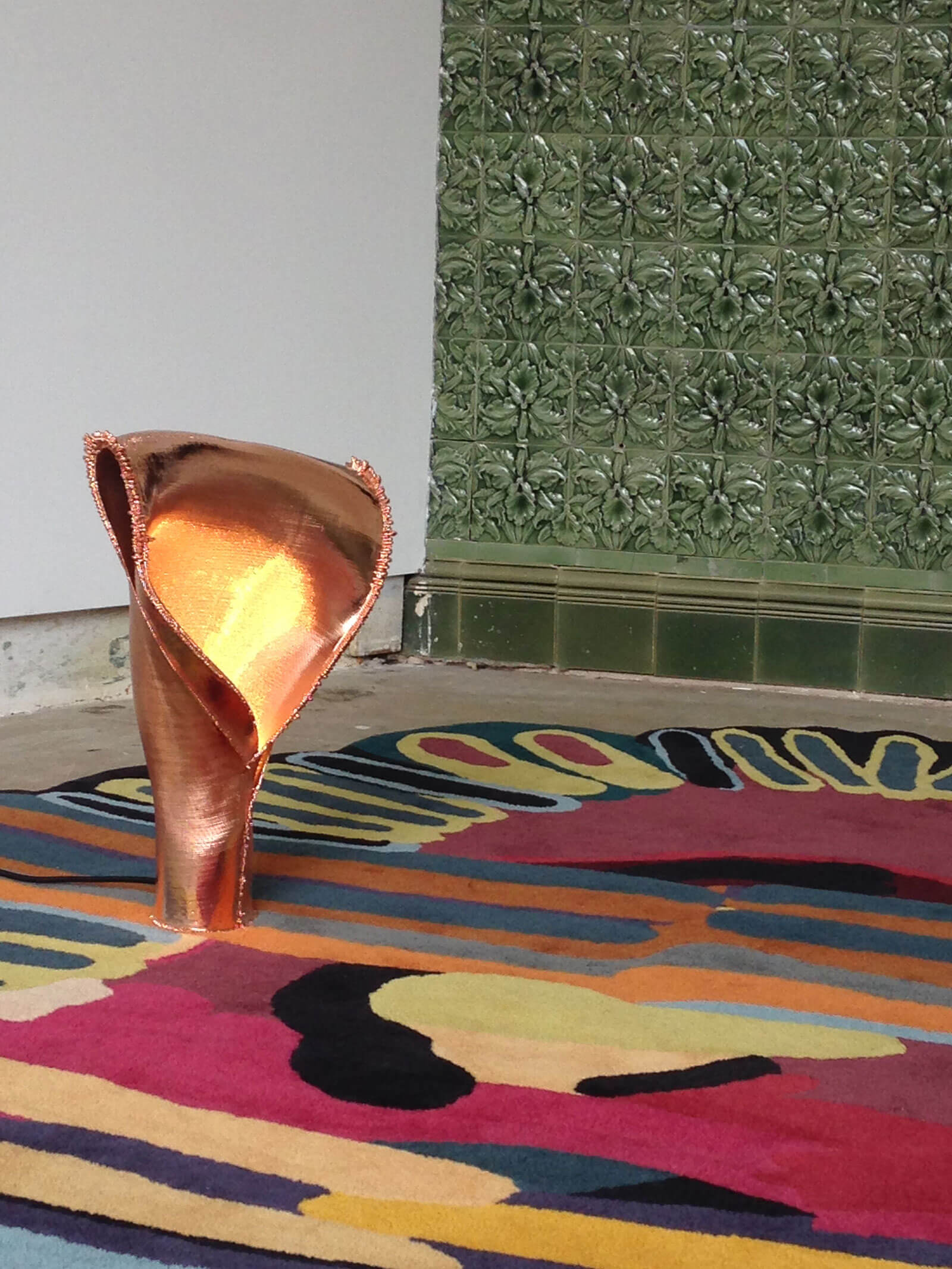 Odd Matter, '114 Hours' light, 2017
COURTESY: Odd Matter
"We're interested in working on entirely new projects with silicone, metals, aluminium-casting and tin-casting"
Georgi Manassiev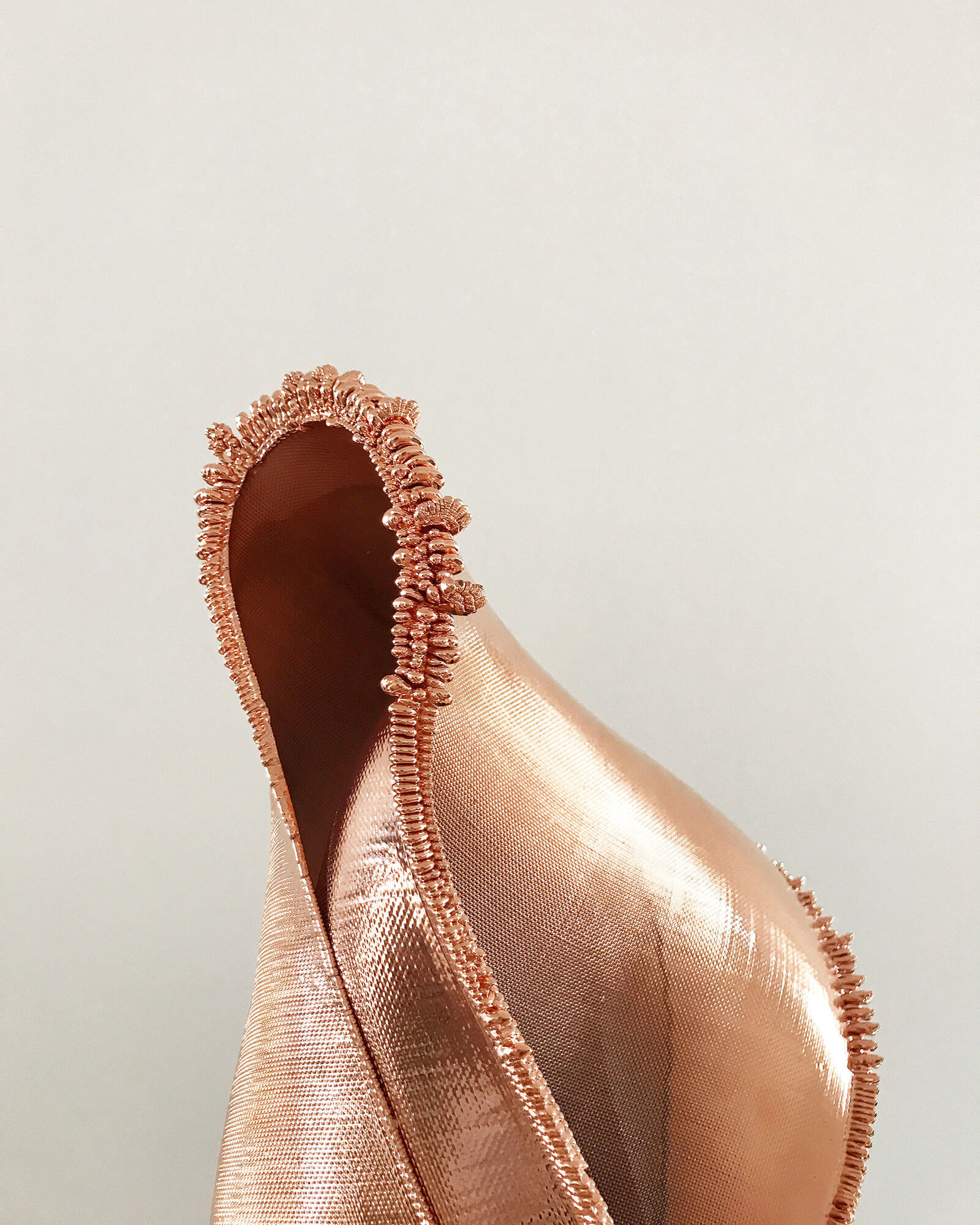 Odd Matter, '114 Hours' light, 2017
COURTESY: Odd Matter
"Our design language is becoming more expressive and bold in terms of knowing what we want"
Els Woldhek
TDE: What about friction?
EW: We regularly disagree with each other on what direction a project should take, one of us believing more in something while the other is doubting it.
GM: In many respects, it's harder to make us both happy than if one of us were doing the project on our own. To make us both happy is very time-consuming, especially now that we know we don't want to compromise. But we know that if we're both excited about something, then we're onto something.
EW: Being a duo slows you down. We're both walking around in the same fog but approaching it from different angles. Suddenly we hit on something and the light turns on. We also give each other freedom to develop and tinker with something. If you push something further, it becomes convincing to the other person as well. We also know when to say 'Stop'.
TDE: What did you want to explore in the 'Guise' collection?
EW: 'Guise' came from an interest in how the car industry develops quite extreme paints, colours and effects and how we'd been working on scagliola [a composite material made from plaster, glue and natural pigments] in another project. We were interested in how paint and surface treatment influence each other and the possibilities of the paint influenced how we would design, alter and emphasise our shapes.
Georgi did most of the preliminary 3D drawings whereas I worked more on the colour palette and how to apply the paint and surface finishes, which was more conceptual. So we worked in phases and the language evolved through the project.
GM: For me, it was pretty much about a fascination with colour and the texture of paints and being curious about experimenting with that and how this could be applied. Through using a CNC hot-wire cutter, we became aware of how shape and colour informed each other and it became about a relationship between the two.
EW: 'Guise' is a very good example of how we like the freedom of letting a project evolve. The first pieces we made were quite soft and stone-like in shape; we wanted them to feel as if they had weight and heaviness. The technique we were using [with the CNC hot-wire cutter] gave us more options. Whilst working on something, you have to stay really open to what's happening in front of you, looking at what the objects become, and not being frightened of altering and adapting them. We're not a design studio that sits down with a clear project, draws out the final object and then goes and produces it.
TDE: What else are you interested in working on?
GM: We would like to explore other techniques to evolve the 'Mass' collection in order to make more objects with different materials. We started 'Mass' in 2016 at Villa Noailles, where we were doing a residency about cork from the region. We think that there is still a lot to expand on in terms of how we create those shapes. And the same thing with 'Guise' – there are different parts that we would like to explore further. We're also interested in working on entirely new projects with silicone, metals, aluminium-casting and tin-casting.
EW: The projects are always a continuation [of other projects] so there's this evolution of what we do that feeds back into the process. We react to whatever comes our way instead of being fixed in how we do things. Our design language is becoming more expressive and bold in terms of knowing what we want.