Pierre Yovanovitch: LOVE
"All we need is love," shouts Yovanovitch literally and metaphorically in his new exhibition, which is infused with sensuousness, colour, craftsmanship and humour.
R & Company, 64 White Street, New York
6th November 2019 – 4th January 2020
ANYONE WHO BEMOANS the absence of romance in our hectic modern life should make haste to see Pierre Yovanovitch's new furniture collection at R & Company in Manhattan's Tribeca arts district. To those familiar with his elegantly urbane interiors, Yovanovitch represents the epitome of French sophistication. But beneath his poised facade beats the heart of a shameless romantic, who enthusiastically announced "what the world needs is more love" as he greeted guests at the gallery opening on 6th November.
The collection, titled (of course) 'Love', debuts in a custom-built environment, a novel departure from the usual design gallery presentation, for which the designer created a five-room fantasy suite of interiors, fitted out with his new furniture designs. The sequential spaces are glamorous stage-sets for a series of romantic encounters, described (in florid prose) on wall labels written by the designer, between "Miss Oops" — the imaginary occupant of an apartment designed by Yovanovitch for a 2018 exhibition in the Villa Noailles — and an unnamed suitor. The narrative progresses from their first meeting in the salon to a passionate denouement in the bedroom. 
Scarlet-red walls set off curvy upholstered pieces graced with oak armrests and underpinnings, tables of handmade solid oak, and a grandly overscaled bed with gently curving oak headboard, about which the designer explained, "All the beds you can buy are too small!"
Pattern is introduced with touches of hand-embroidery by the celebrated French firm Lesage on some chairs, bedcover and accent pillows, and an exuberantly-colourful bedroom carpet.
The new furniture collection builds on the designs introduced at the gallery in 2017, with organic forms that evoke both Jean Royère and early 20th century Nordic masters, including a witty new version of the 'Mama Bear' armchair, with embroidered hands suggestively embracing its curving silhouette. Of the first collection, Yovanovitch said, "I did not want to design for the sake of design; I wanted to introduce pieces that people could really live with." The new pieces follow this approach; though meticulously crafted, they are refreshingly unpretentious in appearance, and the seating pieces are comfortably cushioned.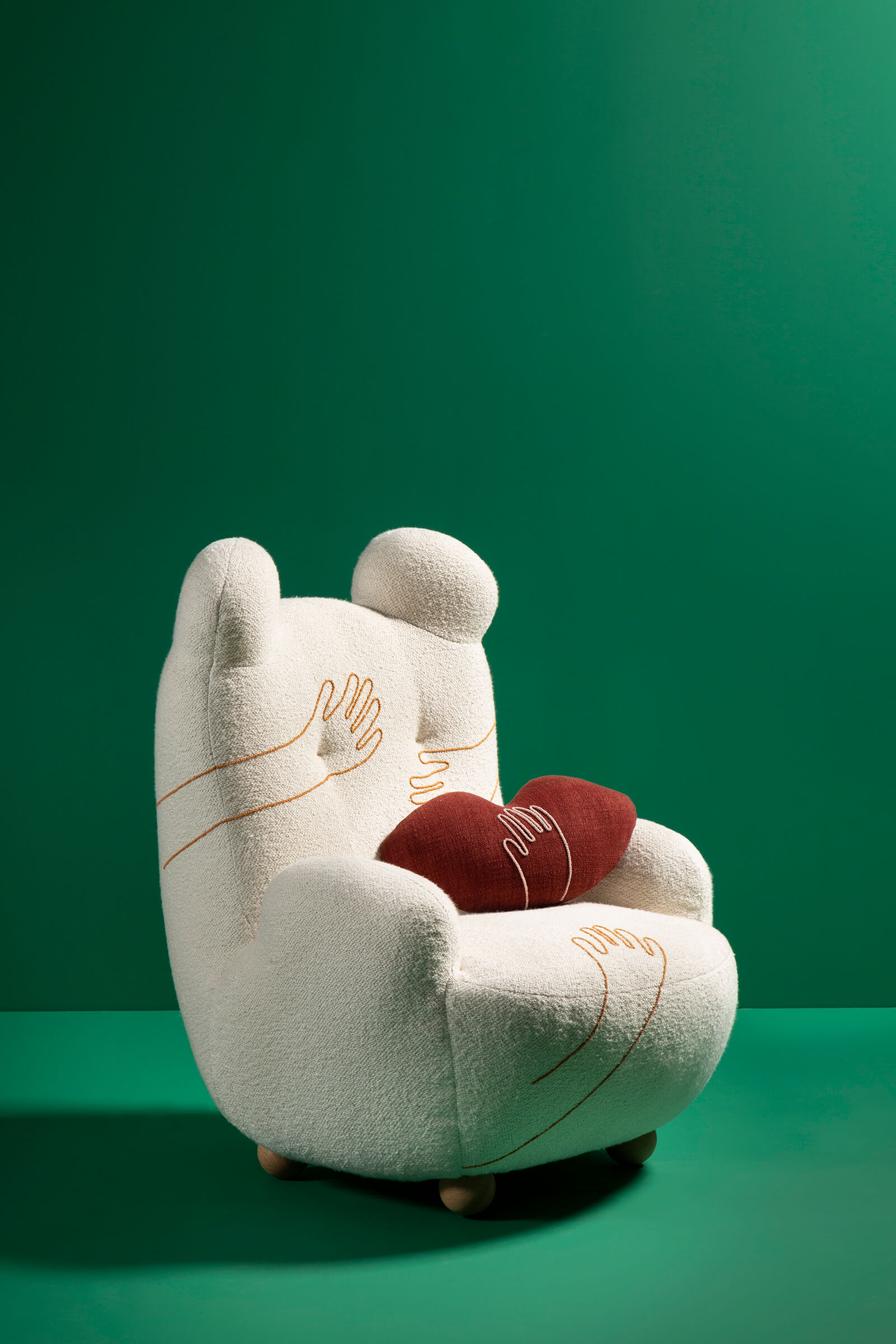 Pierre Yovanovitch, 'Daydream Papa Bear armchair', 2019; 'Whisper cushion', 2019
COURTESY: Pierre Yovanovitch and R & Company / PHOTOGRAPH: Jean-François Jaussaud Luxproductions
"The new furniture collection builds on organic forms that evoke both Jean Royère and early-20th-century Nordic masters"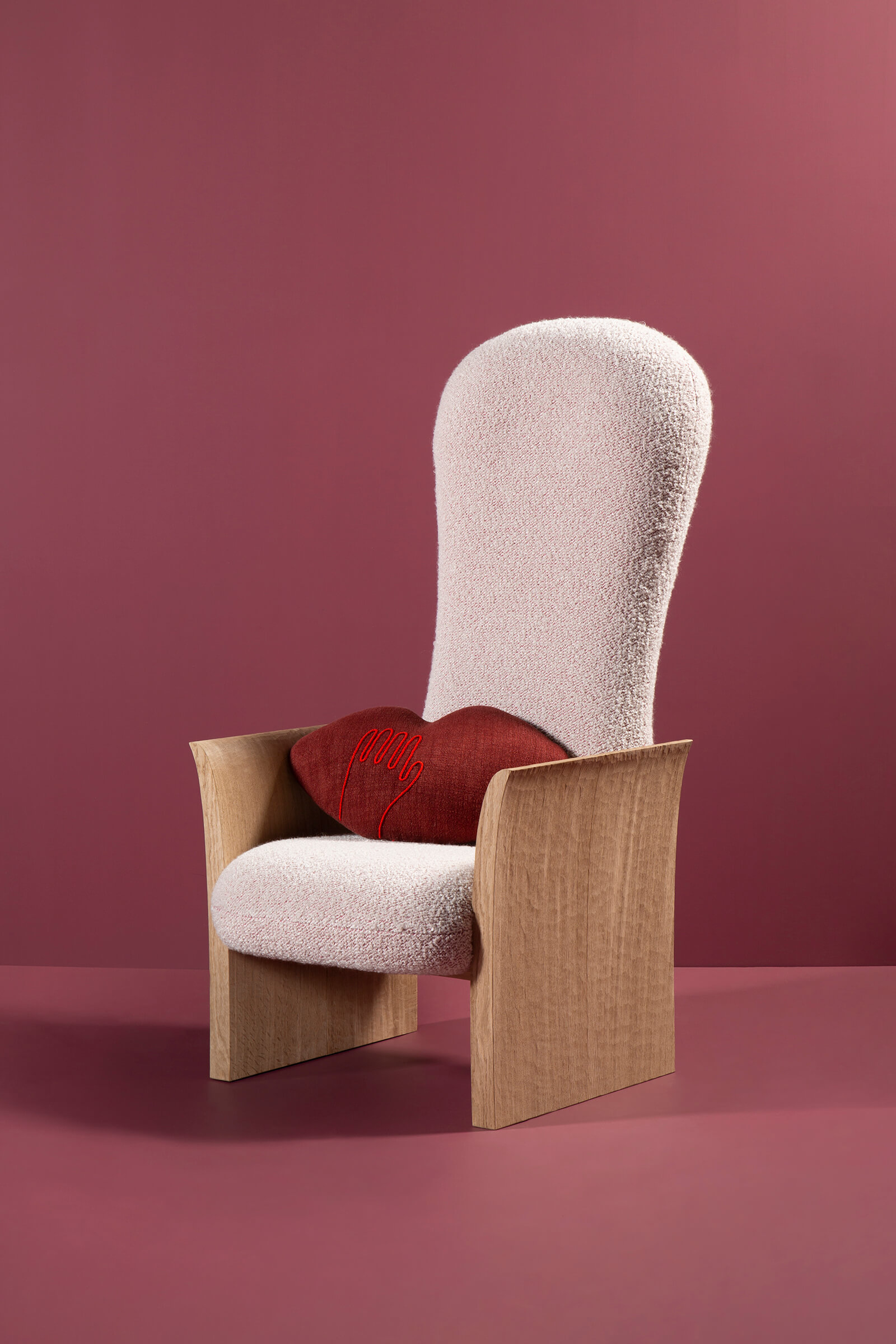 Pierre Yovanovitch, 'Flirting high back armchair', 2019; 'Whisper cushion', 2019
COURTESY: Pierre Yovanovitch and R & Company / PHOTOGRAPH: Jean-François Jaussaud Luxproductions
"I did not want to design for the sake of design; I wanted to introduce pieces that people could really live with."
Pierre Yovanovitch
BORN IN NICE, the 54-year-old designer came to his career somewhat by chance; having graduated from business school, he found his first job in fashion, with Pierre Cardin, and spent eight years learning the business and designing menswear. An ardent admirer of his former employer, Yovanovitch now says, "I wouldn't have gotten where I am without Pierre Cardin; his visionary intuition still inspires me today." He credits an understanding of fashion principles for his skill in manipulating volume and shape. In search of independence, and following his "real passion" for interior design, he opened his own practice in 2001, and has since become internationally celebrated, designing residences and selected commercial projects in Europe and America. 
Although adhering to no specific aesthetic, Yovanovitch is a firm supporter of melding periods and styles, and is particularly admired for his skill in transforming historic residences into urbane modern ones. He accomplishes this by astute mixes of vintage furniture with custom-crafted pieces, contemporary art and site-specific works. "I like to combine different styles, periods and designs, to create a timeless look," he explains. He speaks of "orchestrating a ballet of furniture and objects" and asserts, "I believe that history-laden places are just waiting to be revived by a contemporary spirit." His interiors are often infused with touches of Scandinavian style, in his fondness for natural tones and textures and he admits to "quite an obsession" with furniture from the "Swedish Grace" period of the early 20th century, having even once curated a show in homage to the movement. Perhaps due to that influence as well as his avoidance of overstatement, his work has been described as a warmed-up approach to minimalism.
Reflecting that warmth, in very different contexts, are the interiors illustrated in a monograph published this fall by Rizzoli, titled Pierre Yovanovitch: Interior Architecture. The beautifully-produced volume documents 14 projects, all exhibiting the impeccable taste and discerning eye that characterises the designer's work, beginning with his own house, a historic chateau in Provence which had belonged to the same family since the 12th century. He considers the chateau and its beautiful gardens a refuge, a lifelong design project, and a laboratory for ideas that he may later use in his work. 
Each project in the book is featured in multiple images, showing different elements of the interior, and illustrating noteworthy design details rather than simply showing complete rooms. Brief introductory essays by the designer describe the location, the challenges, and his design approach. Several of the projects are in Paris, but other locales range from London and New York to Tel Aviv, as well as towns in Belgium and Switzerland. All are different, but taken as a body of work, they reveal a consistent sensibility, reflecting Yovanovitch's skill in creating rooms that manage to be both elegant and welcoming. They also reflect his fondness for mixing styles, as works by designers as diverse as Paavo Tynell and Gunnar Asplund, Paul László and John Dickinson, Paul Frankl and Tommi Parzinger, Tobia Scarpa, Frits Henningsen and Robsjohn-Gibbings, Jean-Michel Frank, Jean Royère, Philip and Kelvin Laverne and Jeff Zimmerman coexist compatibly in mostly neutral-toned, uncluttered, pattern-free spaces. Art is a dominating element in many of the rooms, carefully chosen or commissioned to enhance the character of the space. Yovanovitch describes his creativity as relying on imagination and trusting his instincts … once telling an interviewer, "I always start with the premise that it will work. Otherwise, why bother?"
In addition to mixing styles, he is enthusiastic about the importance of materials, a predilection reflected in his use of a variety of touchable textured surfaces in a single project: he enjoys using unexpected combinations of wood, leather, stone, terracotta, bronze, brass, lacquer, ironwork or custom textiles. Yovanovitch has built relationships with a network of French craftspeople – cabinetmakers, upholsterers, ceramists, glass masters and others – that he considers like a family, and on whom he relies to execute the custom designs that make each project something of a gesamtkunstverk. "My work with specialty craftspeople is at the core of my design work," he says, explaining that "it's the distinguishing factor that makes design timeless and long-lasting." 
Discussing the variety of his practice – incorporating architecture, art, vintage and contemporary design, scenography and furniture (which he designs for virtually every project) – Yovanovitch resists being categorised, but when pressed, says "I would call myself an interior architect." Pierre Yovanovitch House now makes its headquarters in Paris's 2nd arrondissement, where a team of thirty occupies a restored 18th century mansion. The firm's most recent projects include the restaurant in London's Connaught hotel, designed with curvy furniture and a salmon-pink colour scheme for a calm refuge that he describes as homage to the chef, a woman. In 2018, he opened an office in Manhattan, and has just completed nine penthouse apartments on the top five floors of a new Bjarke Ingels project, a pair of twisty towers in the art-centred Chelsea neighbourhood. 
Zesty Meyers, co-founder of R & Company, has described Yovanovitch as "the greatest French designer of the 21st Century," citing his instinct for using colour, tone, texture and volume. Judging by the accolades his work has received, and the additional attention that the current exhibition and book will bring, he is surely in the upper ranks of that category.
His fertile imagination, his whimsical touch, and (perhaps most of all) his unabashedly romantic streak, set him apart from his more conservative contemporaries. In the introduction to the Rizzoli book, Olivier Gabe says that Yovanovitch "has never stopped weaving together his own interior stories." The storytelling is obviously one of his preferred activities; when asked what he might like to do that he hasn't already done, he replied "I'd love to try my hand at the theatre … especially the 20th century opera repertory." One would expect the results to be worth waiting for.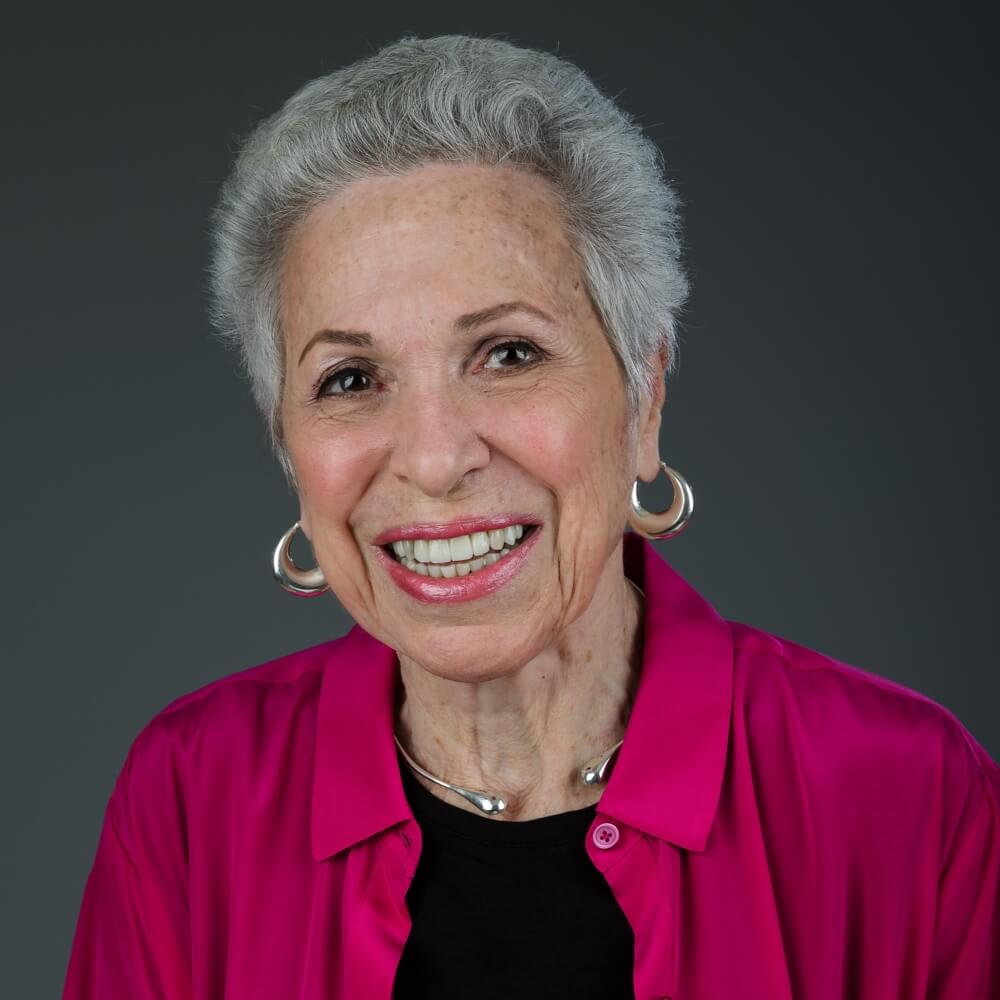 Judith Gura was a New York-based writer and lecturer with a special focus on contemporary design. She covered the design market for two decades, and published a number of books on modern design, furniture and interiors.
View all articles by Judith Gura