Martino Gamper
A late discovery of ginger, combined with his love of Italian cooking, gave the designer inspiration for a new recipe.
Ginger Pasta Surprise
LONDON-BASED DESIGNER Martino Gamper was apprenticed to a furniture-maker in his hometown of Merano in the Italian Alps, studied sculpture under artist Michelangelo Pistoletto in Vienna, then attended the Royal College of Art in London. He is best-known for his project, '100 Chairs in 100 Days', where he disassembled discarded chairs and grafted them together again in ways that challenged ideas of perfection. In the Noughties, he organised the supper club, Trattoria al Capello, with designers Kajsa Stahl, Maki Suzuki and Alex Rich, using foraged ingredients. This presciently anticipated the trend for foraged food and the work of Bompas & Parr, famous for its jellies shaped like iconic buildings. At the London Design Festival this year, Gamper's new freestanding shelving unit for storing record collections in American red oak was displayed at the Victoria & Albert Museum as part of 'Legacy,' a project initiated by Sir John Sorrell in collaboration with Benchmark Furniture.
Why did you choose this recipe?
Ginger wasn't widely available in Italy in the 1970s and 80s when I was growing up, so it was rare and exotic. I first came across it while travelling in Asia. On returning to Italy, I started combining it with pasta and tomatoes and that's how I created this recipe. A friend once said to me, "This could save the world — it's inexpensive, delicious, nutritious and spicy!"
What is your most trusted kitchen tool?
A large collection of spoons I gathered for our Trattoria project, from car boot sales and junk shops, entirely trusted to make sure that however many people sit down at our kitchen table, we can all eat.
GINGER PASTA SURPRISE
Ingredients (serves 4-6):
2 tbs of extra virgin olive oil

2 tbs of fresh grated ginger 

3 beetroot, peeled and coarsely grated 

2 cans of peeled plum tomatoes (or 5-6 fresh, peeled plum tomatoes)

salt and pepper

500 to 600g of dried pasta such as orecchiette, conchiglie or penne

3 to 4 bay leaves

Grated parmesan, or pecorino cheese

Preparation:
 Preheat a medium-sized pan, add the olive oil and ginger, and fry until it turns a pale golden colour.

Add the plum tomatoes and a few pinches of salt. Stir and break the tomatoes apart until they become a smooth sauce. Reduce the heat, then stir in the beetroot and cook gently for 20 to 30 minutes.


While the sauce is cooking, bring a large pan of water to the boil and add the pasta, salt and bay leaves. Keep the water at boiling temperature (it should not simmer), but add a few splashes of olive oil to prevent the water from overboiling. Cook the pasta for 8 to 10 minutes, depending on the type of pasta used.

Drain the pasta and fold it into the tomato sauce. Drizzle over some olive oil or sprinkle with grated parmesan, or pecorino cheese.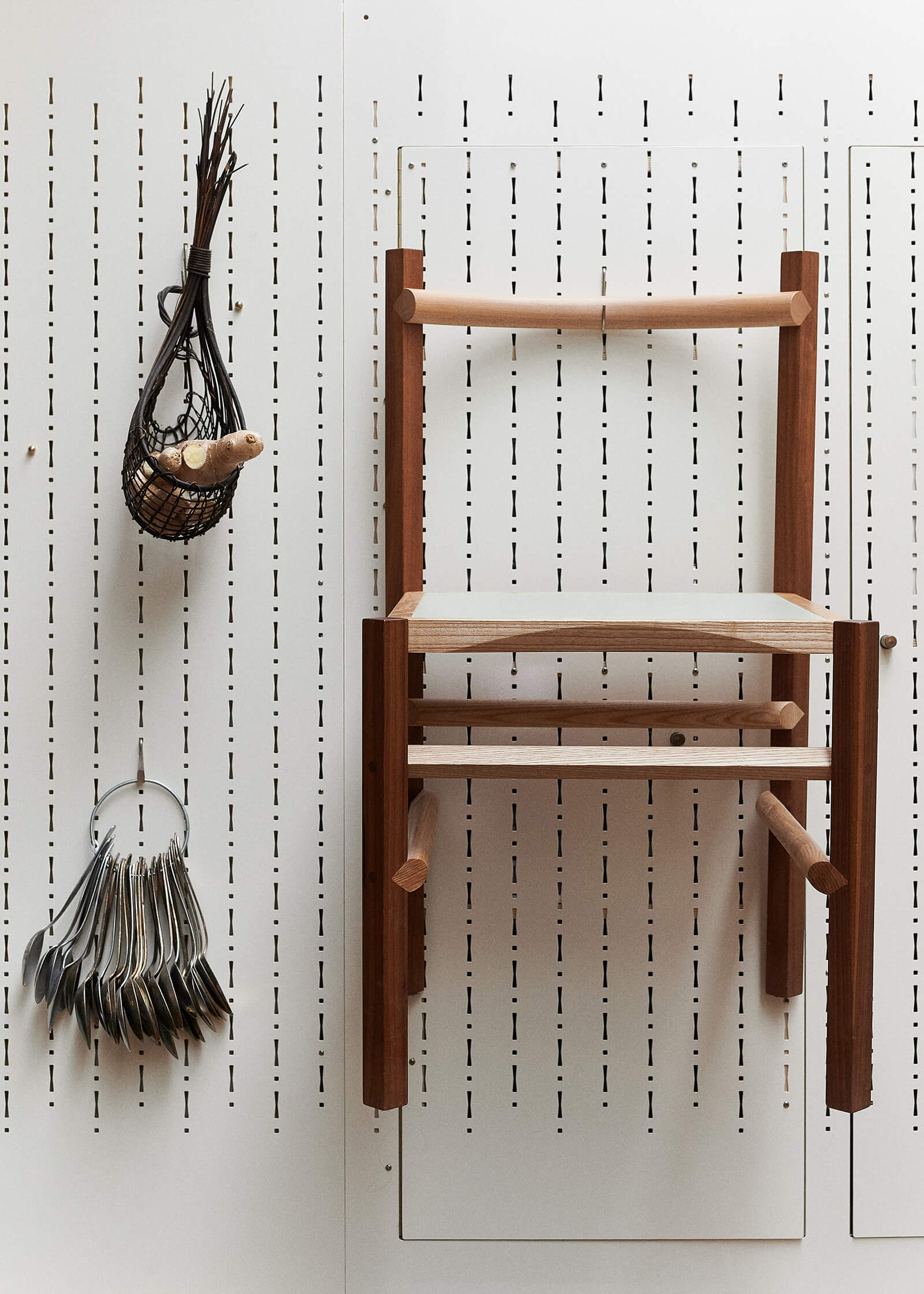 Ginger basket, spoon collection, and Martino Gamper chair
COURTESY: Sarah Weal
"There are a lot of connections between food and design. In both disciplines you have a given amount of ingredients, and in both cases there aren't really any new ingredients coming into the world …"
Martino Gamper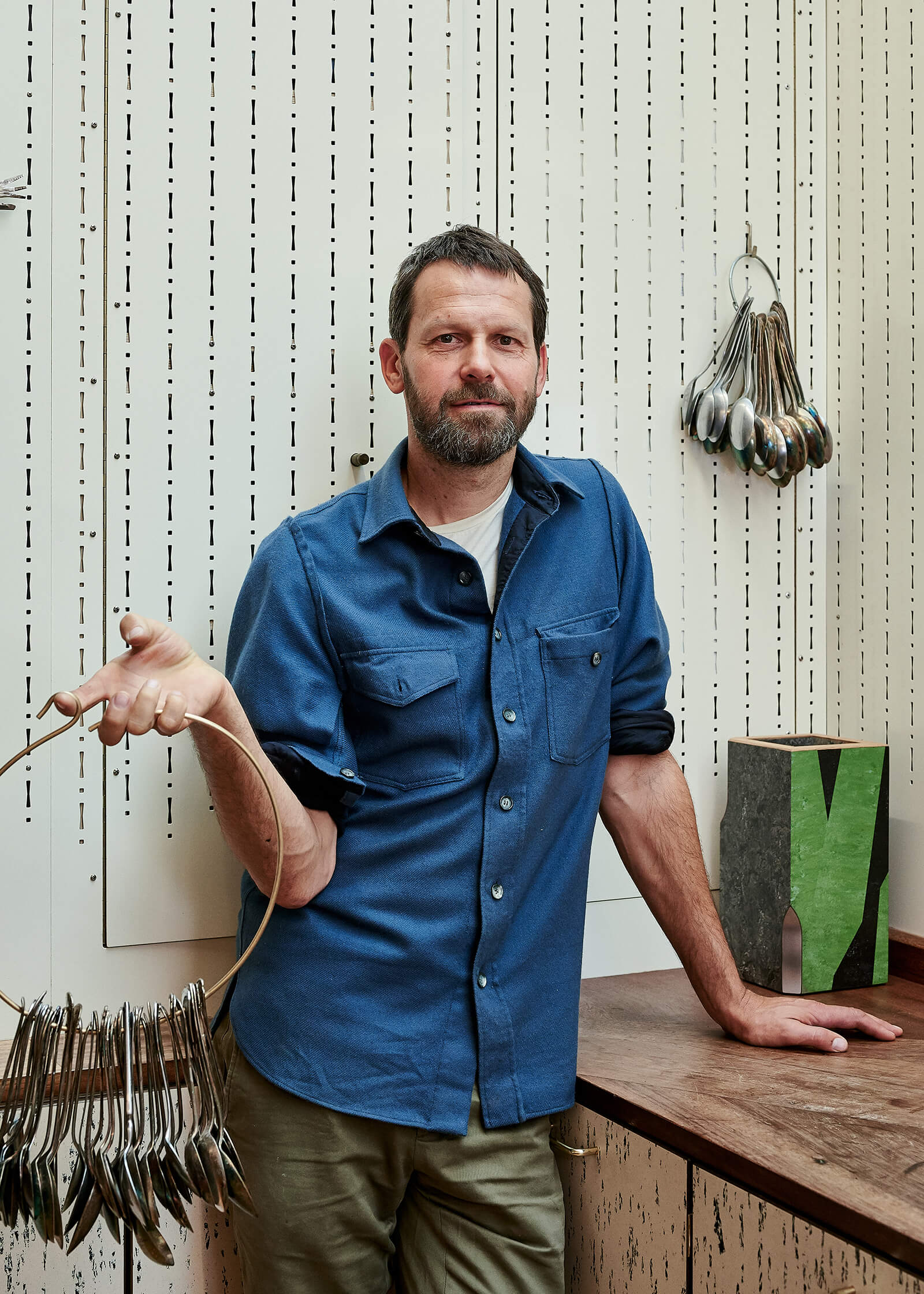 Martino Gamper with his spoon collection
COURTESY: Sarah Weal
"Basically all design is made of the same given materials. So, it's all about the combination and how you construct, techniques that you use to refine it …"
Martino Gamper