Milan Design Week 2021 / Review
Collectibles make a strong showing at the world's largest design event.
4th-10th September 2021
BACK AFTER REPEATED cancellations, Milan Design Week – the combination of the Salone del Mobile furniture fair and Fuori Salone citywide festival – opened the September calendar with much anticipation. Though a smaller animal in comparison to its full iteration, normally held every April, this cornerstone event pulled out all the stops impressively and was organised in only three months. The main commercial exposition incorporated a dynamic system of sustainably-produced display walls, while brands and cultural platforms activated much of the Italian metropolis's city centre.
Alongside the ranks of established furniture manufacturers – mostly Italian – presenting newly released furniture, textile, lighting, kitchen, bath and accessory collections, there was a robust offering from collectible design galleries and independent talents, staking their claim. The lines between these two facets of the industry continue to blur. Joining local mainstays Nilufar Gallery, Rossana Orlandi and Annalisa Rosso's CTMP Design Auctions were pop-ups mounted by Carpenters Workshop Gallery, Carwan Gallery, Etage Projects, ICA Milano in partnership with Friedman Benda, and Galerie Philia. Experimental and research-based projects cropped up through the comprehensive Alcova programme, hosted on a military base, and within the 5Vie design district.
The Design Edit contributor Adrian Madlener was in town for this year's pared-back yet dynamic Milan Design Week. Here are his top five highlights. As evident in this survey, overarching themes of formal simplification, working with natural materials and mitigating the rapid advance of technology through adapted craft techniques, are continuing to gain traction.
Galerie Philia: Rick Owens — Dialog with Emerging Italian Designers (5th-10th September)
Fashion designer Rick Owens's ongoing foray into furniture design has been seismic. Incorporating into his tables and chairs the same gritty, Brutalist aesthetic that characterises his garments, the American-born, Paris-based polymath references everything from Berlin bunkers to Neo Dadaism. His visceral works blend clean architectonic geometries with natural elements like bone. This revived minimalist approach has had a particular impact on the up-and-coming talents of the past decade, especially in the implementation and refinement of noble materials and distilled sculptural forms.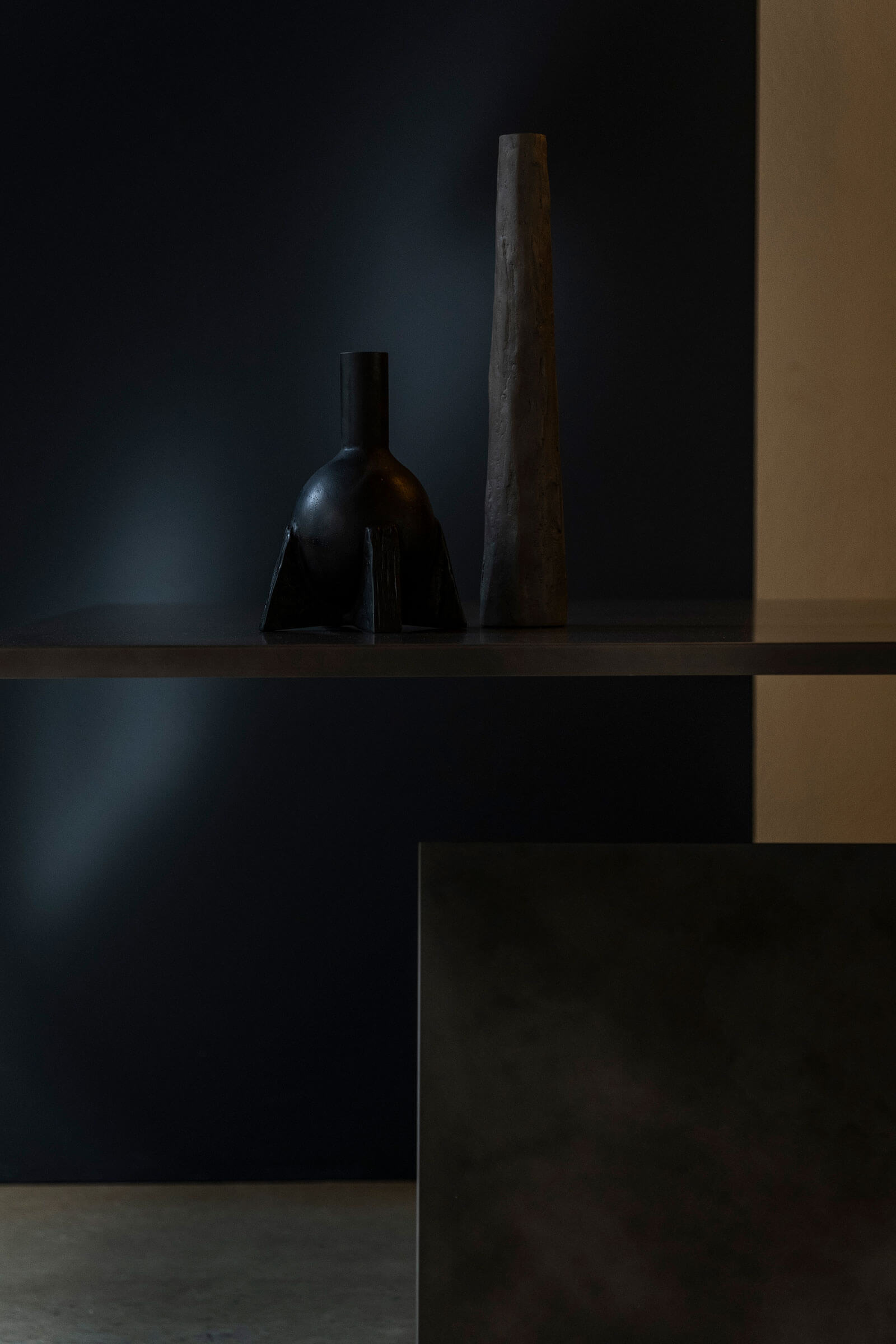 Rick Owens, 'Duck Neck'
COURTESY: Galerie Philia / PHOTOGRAPH: Maison Mouton Noir
"His visceral works blend clean architectonic geometries with natural elements like bone"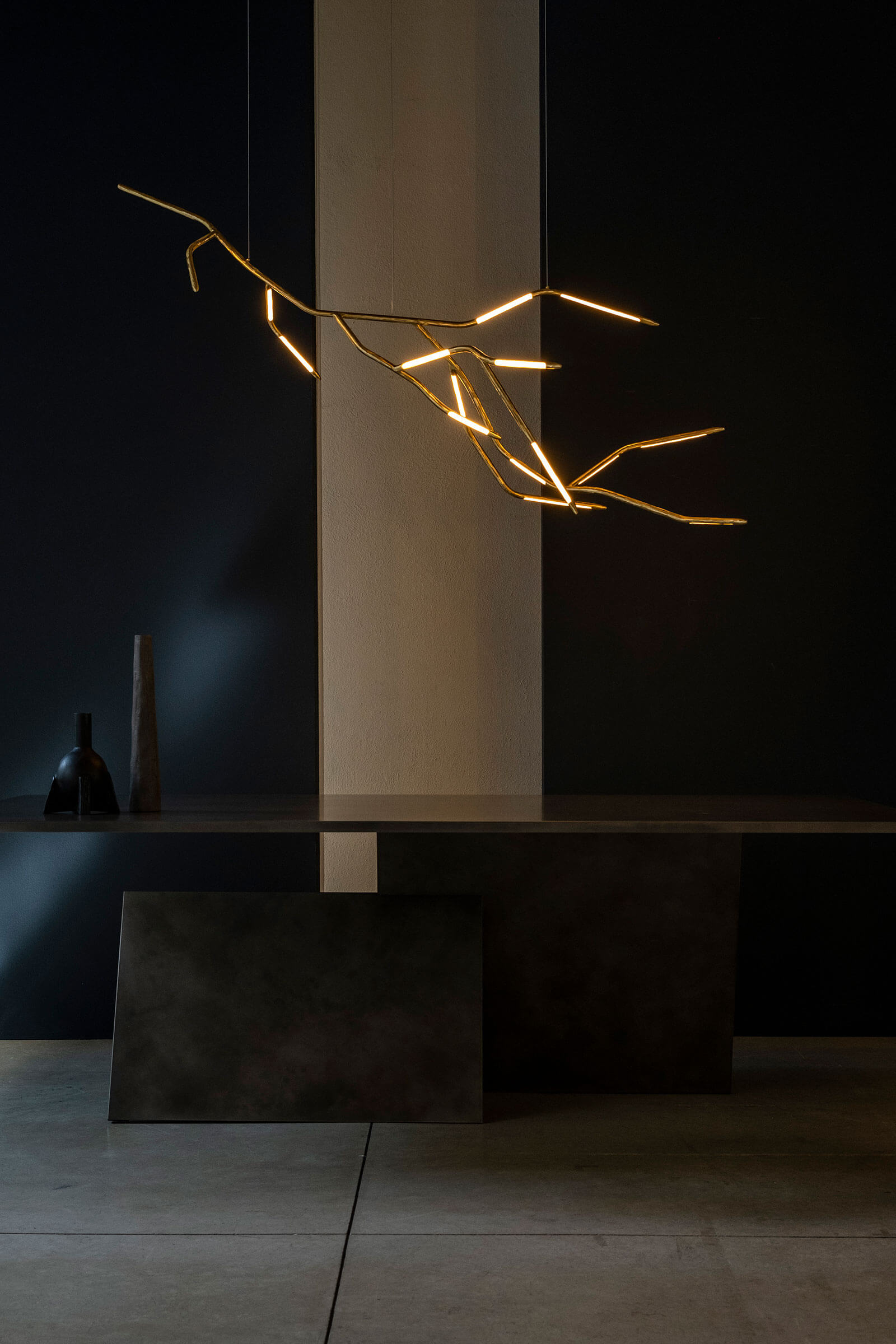 Morghen, 'Dafne Custom' light; dAM Atelier 'Contemporary Table Y'
COURTESY: Galerie Philia / PHOTOGRAPH: Maison Mouton Noir
"I use rare materials and artisans with specialised skills to create unique, one-of-a-kind object."
Rick Owens
Nomadic Galerie Philia saw this year's Milan Design Week as a chance to highlight his influence on a slew of young Italian designers currently taking the market by storm: DAM Atelier, Draga & Aurel, Lorenzo Bini, Agustina Bottoni, Samuel Constantini, Cara and David, Pietro Franceschini, and Morghen Studio. Works by Owens were placed in dialogue with pieces by each of these practices: an overall display marked by a sophisticated palette of blacks, whites and golds, and a formal vocabulary of grids and carefully considered curves. "My furniture is my couture," Owen explains "I use rare materials and artisans with specialised skills to create unique, one-of-a-kind objects."
Carpenters Workshop Gallery at De Cotiis Gallery: Inside Le Purisme (5th September – 17th December)
Bringing together a Who's Who of its illustrious roster, Carpenters Workshop Gallery teamed up with Milan-based talent Vincenzo De Cotiis to mount a group show based on the theme of purism, one of his main foci. "To immerse myself in an experience with constructions aimed at a movement that is expressed with clarity and formal freedom I've used a Purist language that surpasses decoration," the designer explains, "looking to 'subtract', in order to return to the truth of its time. Simplified signs and freedom of interpretation without ornamental gestures, but above all an absolute design clarity."
Key pieces by Aldo Bakker, Wonmin Park, Rick Owens, Robert Stadler, Mathieu Lehanneur, Pack Cocksedge, Aki+Arnaud Cooren appear to reflect this underlying ethos. Presented juxtaposed next to De Cotiis's mirrors, pendant luminaires and stool, these works – chosen by the host – reflect formal distillations and morphologies.
Each exhibiting talent addresses the notion of purism in their own way. This mise-en-scène denotes a certain contemporaneity – incorporating a level of simplified shape, clear perspective and monochromatic colouration.
ICA Milano and Friedman Benda: Michael Anastassiades, Cheerfully Optimistic About the Future (8th September – 1st June 2022) 
Curated by Alberto Salvadori, this unique mid-career retrospective looks at lesser-known facets of renowned designer Michael Anastassiades's interdisciplinary practice. Recognised for his hyper-minimalist luminaires that seem to directly translate from two-dimensional shape studies, the British Cypriot designer's explorations of form, material and composition go far beyond a reductivist vocabulary. His deeply investigative approach allows him to closely consider cultural elements and aesthetics, resulting in products and spaces that are rooted in a transdisciplinary methodology.
The 'Cheerfully Optimistic About the Future' exhibition unearths Anastassiades fascination with the handmade; the relationship between the maker and his or her chosen medium. Central to this showcase are vertical structures formed from interspersed bamboo shoots and neon tubes held together by zip-ties. These clusters rely for their impact on the juxtaposition of industrially produced bulbs with the inherently irregular natural material. Though expressing the same iterative and repetitive aesthetic that  characterises much of the designer's output, this collection reveals a relaxing of his need to compose tightly controlled forms. Clustered in various arrangements these slight ad hoc yet meticulously stylised structures cut an impressive figure within the bare post-industrial space they occupy.
Unnatural Practice by Marcin Rusak Studio (5th -10th September) 
A petrified fragment of Polish designer Marcin Rusak's ongoing exploration of natural decomposition and ephemerality, the 'Unnatural Practice' exhibition brought together pieces from his 'Decay', 'Flora' and 'Protoplasting Nature' projects. Curated by Federica Sala, this exhibition resembled a living catalogue, with a sensory installation meant to elicit a scent-based reaction, alongside materialised objects and a contextualising film.
Rusak's unnatural practice combines scientific research with a level of aesthetic sublimation, achieved through transformative processes appropriated from nature and adapted in various ways. The underlying structures of gathered elements like leaves, flowers and plants influence the re-engineering of raw materials into newly constructed objects. Before entering the main exhibition space, visitors to this immersive showcase had to walk through an extracted marshland, denoted by specific odours, textures and compositions. Emotional responses such as nostalgia were evoked in Aga Beaupré's 'Unnatural Practice' film, featuring the designer as the main protagonist. At the core of this exhibition were roughly hewn and cast metallic furnishings, seemingly faded in their present state.
Tech Craft, presented by NOV Gallery (5th -10th September) 
Mounted as part of the Alcova programme with support from the Ikea Foundation, Geneva-based NOV Gallery's 'Tech Craft' exhibition sought to explore the complex relationship between the latest artificial intelligence technologies and our physical world.
Bringing together eight up-and-coming Swiss talents, the platform asked each to explore the issue and reflect on the changing nature of various manufacturing processes. Has the pandemic spurred an increased reliance on virtual tools, or a return to tried and true handicrafts? The speculative results grapple with the use of hybrid methodologies, the question of overconsumption, material extraction and reviving certain skill sets.
Panter & Tourron's '.6MM' is an interactive installation created in collaboration with laminate giant Abet. These luminaires use innovative pressed-cellulose sheets to diffuse light in shapes that evoke romantic visions of long lost industrial factories. Noelani Rutz's 'SEN Vases' combine 3D printing with highly skilled Japanese urushi lacquering. This project reflects a desire to move forward and adopt new processes while also finding new applications for otherwise outdated, or soon-to-be-forgotten, craft traditions. A few works consider what the form-follows-function tenet of honest design might look like within contemporary parameters, while others deal with the visual potency of typography in our image-drenched culture.
Next week Astrid Malingreau offers another perspective on Milan.